A pensioner banned from harassing his next-door neighbours has denied breaching a restraining order.
Desmond Hughes, 70, is on trial alongside his partner Claire Anderson, 54, accused of defying the order banning them from contacting Nick Hancock, his wife Linda and their daughter Talia, 22.
Newport Crown Court has heard the alleged incidents took place last year in Began Road, Old St Mellons, Cardiff.
The two defendants are subjects of an indefinite restraining order imposed by Cardiff Magistrates' Court in July 2013 after being convicted of harassing the Hancock family.
Hughes denies three charges of acting in breach of a restraining order while Anderson denies the single charge she faces. Hughes was found not guilty of a fourth charge on the direction of the judge.
In March last year Hughes is accused of "loitering" outside his neighbours' home and when Mrs Hancock returned it is alleged he was trying to "intimidate" her as she drove onto her driveway.
The following September, Hughes and Anderson are accused of shouting at Mr Hancock from their rear garden as he mowed his lawn.
Giving evidence, Hughes told the jury the incident with Mrs Hancock in the street did not happen.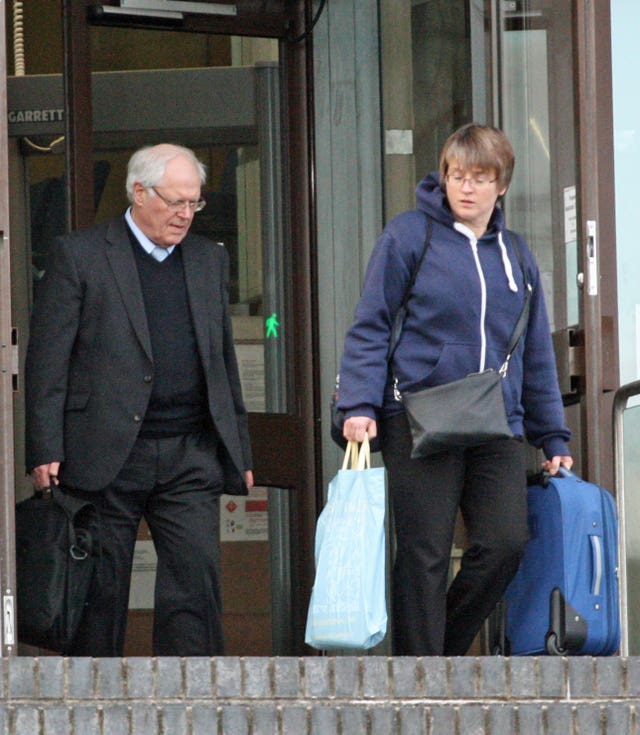 The defendant also denied swearing at Mr Hancock saying he was too busy building bee hives to notice his neighbour mowing the lawn.
Hughes said his partner did not gesticulate with her middle finger at her neighbour, explaining she was hanging out a gardening glove to dry in the hot weather.
"She stuck the glove on a stick because it was wet. She just left it there while she was weeding," he told the court.
Under cross-examination, prosecutor Sam Shepherd asked: "I am going to suggest that this simply is not true and that is Claire Anderson putting up her middle finger up at Mr Hancock."
Hughes replied: "Positively, it is not."
The defendant also denied taking three photographs recovered by police from his camera, which are said to be of Mr and Mrs Hancock's front and rear gardens.
"I have not used a camera at all since 2013 when I took photographs of the fence between the two houses at the back," Hughes said.
He told the jury the pictures had been taken inside his home by his elderly widowed neighbour and his Slovakian gardener at the behest of a chartered building control surveyor called Richard Phelps.
"People are very scared of coming to our premises and a camera is outside in one particular place and there is a camera inside in case they need it," he told the jury.
"There were instructions in writing from Richard Phelps to take the pictures regarding criminal damage to my property."
The court also heard Hughes has been previously convicted in 2014 of three charges of breaching the restraining order.
Mr and Mrs Hancock, who moved into their home in 2011, have previously told the jury of their frustration at living next door to the defendants saying they had been subjects of complaints to the local council about fly tipping, their trampoline and a garden shed.