British retailers barely scraped a rise in sales at the start of the year as inflation-induced price hikes caused growth to unexpectedly ease.
Figures from the Office for National Statistics (ONS) showed retail sales rise 0.1% month on month in January, with economists pencilling in a more optimistic outcome of 0.5%.
The statistics agency pinned the blame on widespread price rises, with sliding food sales being countered by double-digit growth of games, toys and sports equipment.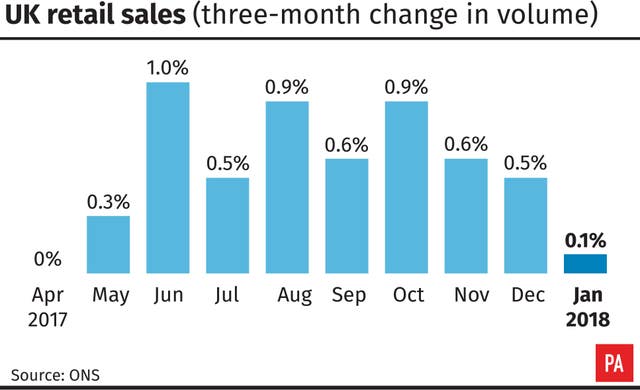 The latest slew of data also made for grim reading on a three-month basis, recording its lowest growth since April last year at 0.1% growth.
Sales expanded by 1.6% last month compared to the year before, markedly slower than the 2.4% growth recorded between January 2016 and 2017.
Rhian Murphy, senior statistician at ONS, said the long-term diagnosis for the retail sector was one of a "continued slowdown".
The lion's share of the growth in January came from non-food retailers, with sports equipment, games and toys expanding by 10.9% as consumers looked to shed a few pounds at the start of the year.
However, the amount bought at food stores dropped for the sixth month on the bounce, down 0.9% in January on an annual basis.
Ms Murphy added: "Sporting equipment sales have grown more than usual in January 2018, following an increased uptake for gym wear."
Sterling pared its gains against the US dollar following the announcement, rising 0.1% to 1.41. Versus the euro, the pound was down 0.2% at 1.12.
"Volumes were 0.5% below their Q4 average in January, setting up overall consumption to provide little support to GDP growth in Q1."
A string of high profile retailers warned over profits at the start of the year after failing to churn out bumper sales during the crucial Christmas trading period.
Sluggish sales and the weak pound forced troubled fashion and homeware retailer Laura Ashley to issue a profit warning on Thursday, adding to a clutch of dismal updates from Carpetright, Mothercare and Debenhams.
Economists are expecting some relief for high street shoppers as inflation eases from 3% and wage growth picks up pace, but political uncertainty is likely to mean that the retail sector remains under intense pressure.