A landmark mill on the Norfolk Broads has had new sails fitted as part of a National Trust restoration project.
The four old sails, which were "pretty" but did not turn, were removed from Horsey Windpump in 2014 after they became rotten.
Alex Green, National Trust spokeswoman, said she hoped the newly-constructed replacement sails would be turning by the summer.
This would be the first time they have turned in 75 years, following a severe lightning strike in 1943 which split the timber stocks that held the sails together.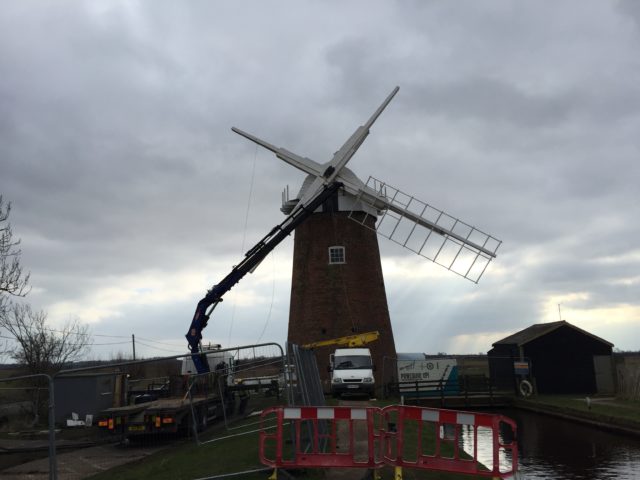 The new sails were raised into place using a lorry with lifting gear instead of a crane, due to soft ground, with the millwright on a cherry picker to attach them.
Three sails were in place as light faded on Friday, with the fourth expected to be fixed in place under floodlights.
The purpose of the drainage windpump is to pump water from dykes, which drain the land, out into the Broads and tidal waterways.
Its job is now done by an electric pump, and the mill is being restored so the public can see demonstrations of how it used to work.
A new cap was fitted to the top of the mill's brick tower, which was built in 1912, last year and the fitting of the new sails marks the end of phase one of the restoration project.
Ms Green said the next stage was to fit striking gear and shutters to better control the speed of the sails, and the final phase will be to restore the turbine so the drainage mill can pump water.
"That's the ultimate ambition," she said. "To have the mill here as a fully working windpump."
She said this is expected to be completed in the next few years.