A riverfront memorial to a Second World War hero who inspired a scene in the recent hit film Dunkirk has been unveiled.
Wallasey-born pilot Jack Potter is not mentioned by name but the moment in Christopher Nolan's movie that a pilot ditches his Spitfire into the sea after an engine seizure is based on his own experience.
Family and friends of the airman, including his son Robert, travelled from as far afield as Australia and Canada for Wednesday's service on Seacombe Promenade in Wirral, Merseyside.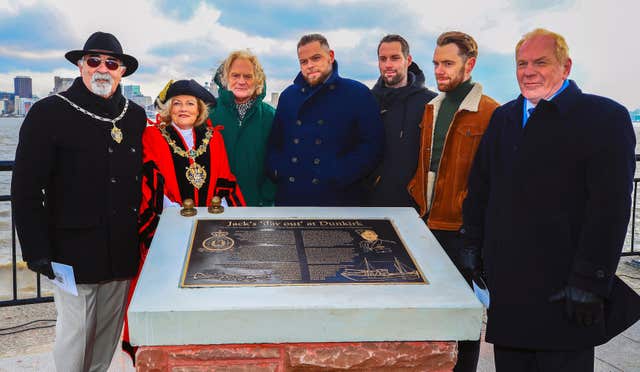 He survived the war and later settled in Brighton.
Councillor Jerry Williams, Wirral Council's "heritage champion", who traced Mr Potter's family, said: "He had an illustrious war record.
"At Dunkirk, he destroyed a Messerchmitt. Less than a week later, his engine seized 15 miles from the English coast and he ditched into the sea, later being picked up and landed at Dover.
"During the Battle of Britain, he ditched into the Channel again, (was) picked up by a German vessel and spent the rest of his war in a Prisoner of War Camp.
"Jack survived the war and died in Brighton in 1977. Around this time I was corresponding with Battle of Britain pilots, collecting signatures, and wrote to Jack. Sadly, his relatives said he had just died but they sent me a copy of his signature."
The stretch of the promenade where the memorial is located has been renamed Jack Potter Walk.