It was a white wedding with a difference when up to 40 people helped the couple defy the weather and made sure the bride got to the church more or less on time.
Drivers in 4x4s and a tractor with a plough cleared the steep road outside St Cuthbert's Church, Benfieldside, near Shotley Bridge, County Durham, for the wedding of Rebecca McKenzie and Daniel Hodgson on Wednesday.
People held shovels above their heads as a guard of honour as they left the church.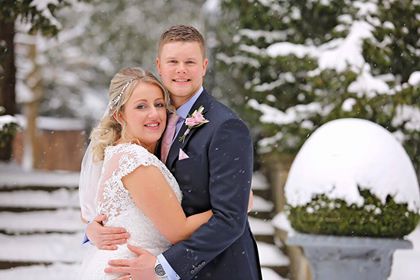 The congregation also braved the temperatures during the service as the church's heating system broke down.
Rev Jackson said: "There was so much feeling for a young couple and that this was 'the' day of their lives.
Photographer Sarah Thew said: "It was a lovely day, but obviously we were up against the elements."
She has set up a Justgiving page hoping to raise £200 to cover the cost of heating the church and guests as its heating system broke down before the wedding.
Rev Jackson said it was 3C inside the church before expensive, temporary heaters were brought in, warming it to a still chilly 6C.
The page can be found at https://www.justgiving.com/crowdfunding/stcuthbertsshotleybridge