Bands of freezing rain which have doused parts of the country risk turning roads into icy death traps, motorists have been warned.
Roads and railways have been rendered impassable by the coldest start to March on record, stranding hundreds of people in treacherous and snowy conditions.
Travel misery could be compounded as freezing rain sweeps across southern parts of England and west Wales.
The Met Office issued a yellow weather alert until 11.55pm, saying the rare phenomenon could mean icy stretches which may be difficult to see.
The Army has been drafted in as part of a major rescue operation to reach motorists trapped on roads by heavy snow and icy blasts.
The unrelenting weather led to a collision between five and 10 vehicles at around 3.45pm on the A38 westbound in Devon, Highways England said.
A further 30 vehicles became stuck in a lane due to the weather conditions after the accident between the A380 and B3344, but the stretch has since been cleared.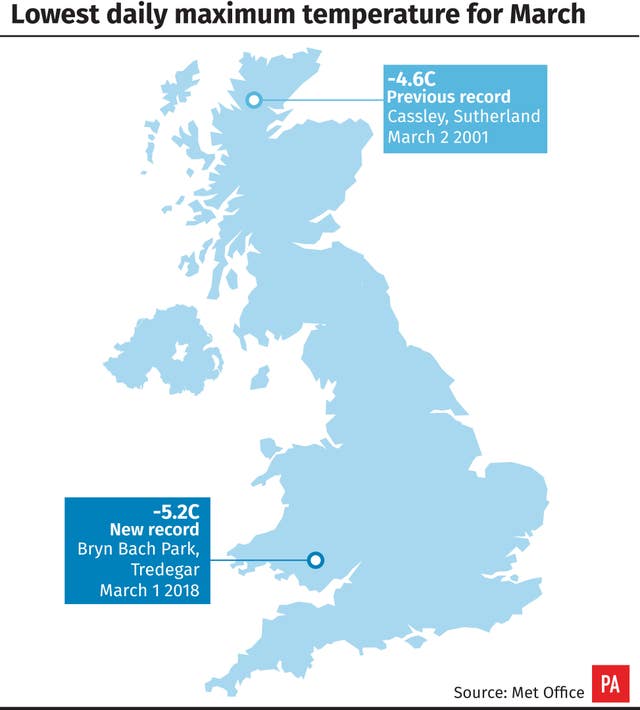 The lowest daily maximum temperature for March was hit on Thursday (PA Graphics)
Southeastern rail services were also severely disrupted after frustrated passengers jumped from a train near Lewisham station, south London, on Friday evening and began walking down tracks.
The company turned off power in the area for safety reasons and called for police support as it dealt with the "serious trespass incident", warning those who disembarked risked electrocution.
It had earlier told passengers not to travel, while South Western Railway wound down services early in light of the weather.
Meanwhile, the RAC said frozen rain – which occurs when snow, ice, sleet or hail passes through a layer of warm air before cooling again closer to the ground, freezing immediately on impact – could pose a deadly road risk.
Traffic spokesman Rod Dennis said: "Freezing rain perhaps represents one of the greatest challenges any driver could face.
"Droplets of rain which come into contact with the ground and other surfaces freeze instantly.
"This creates a huge hazard as roads may look clear and safe, despite actually being potentially icy death traps.
"Where freezing rain is forecast, put simply drivers should avoid using their vehicles in affected areas."
The Met Office added on Twitter that black ice was a threat that could be caused by freezing rain, as it "may not be visible, but it will be there".
The forecaster said Thursday saw the temperature slump to its lowest daily maximum on record for March, at minus 5.2C at Bryn Bach Park, Tredegar.
Half a metre of snow was measured in two areas – Drumalbin, Lanarkshire, and St Athan in Glamorgan, South Wales.
Strengthening winds caused blizzards and drifting snow in some parts of the country, spelling travel problems for the fourth day in a row.
Flood warnings were also issued in several coastal regions by the Environment Agency, which published 15 warnings and 36 alerts, predominantly for south west and north east England.
Large parts of the Irish Republic remain on red alert until 9am on Saturday, after being hit by the worst snow in 35 years.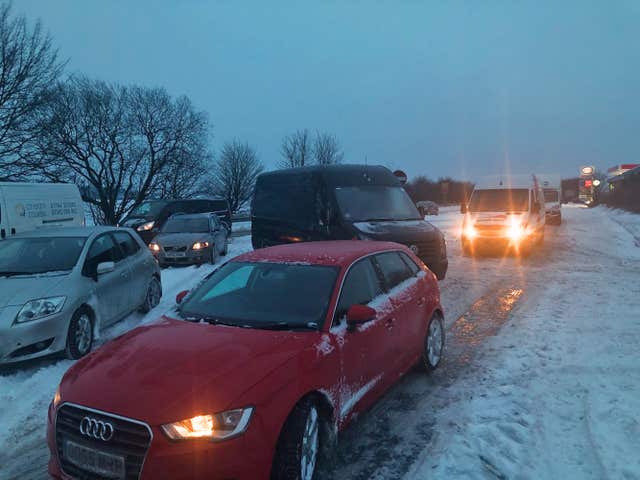 The M62 was closed indefinitely between Rochdale and Huddersfield, where dozens of drivers required rescuing, Greater Manchester Police said.
Hampshire Police said they had called in the military to help evacuate people from the A31, while Avon and Somerset Constabulary said about 100 vehicles had become stuck on the A303 at Ilminster.
Cars were pictured strewn across the road on the A303 – where drivers reported being stuck for 17 hours – with queues stretching back miles.
Wiltshire Council also announced a major incident in response to the tailback and urged people to avoid the area.
All motorists were rescued by Friday afternoon, Wiltshire Police later confirmed.
Crashes were also reported on Friday on the M20 and the M40.
The Army sent 10 4×4 vehicles and 20 troops to Shropshire, while the Royal Marines deployed the same resources in Devon and Cornwall.
Several people have already died as a result of the severe weather, including a seven-year-old girl.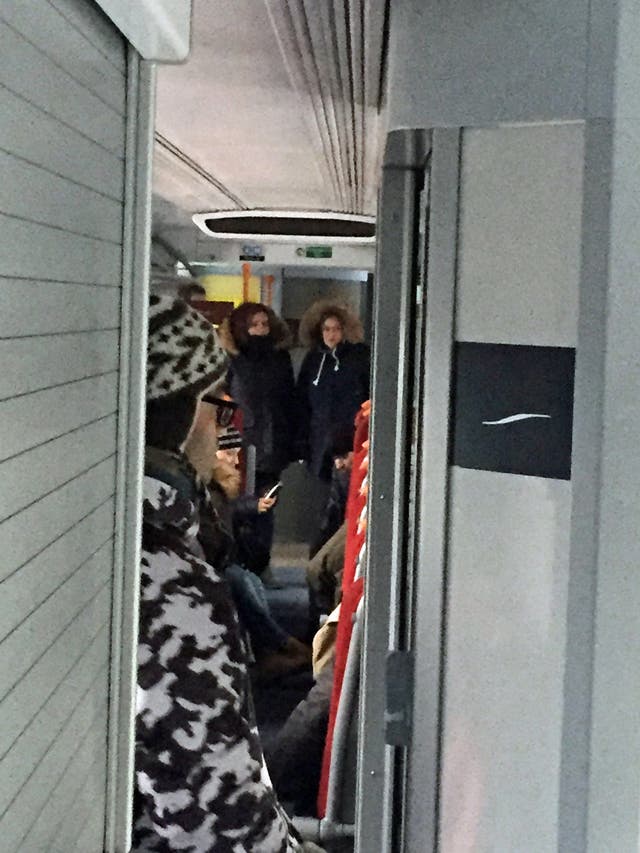 It caused four other trains to stop behind it and forced passengers to endure a night without heating or electricity inside the carriages.