Theresa May warned developers that she would "not rule out any options" to tackle delays in homebuilding, as she said there were "perverse incentives" around the bonuses paid to bosses.
In a speech setting out how she aimed to reverse a situation where the UK had failed for decades to build enough homes, Mrs May was forced to respond to claims she had been a Nimby for objecting to developments in her own constituency.
The Prime Minister, who called for a "great national effort" to get Britain building, said her goal was getting "the right homes in the right places" as she set out a shake-up of planning laws.
Mrs May said: "This is about building the right homes in the right places. That's what the planning process is actually about.
"The planning process is a process which ensures that developments, that proposals for developments, are looked at properly.
"Yes, I have opposed a number of developments in my own constituency.
"I have also, for what it's worth, supported a development that took place on a green belt site which had previously been built on."
She suggested that could include converting shops to homes, as retailers faced difficulties caused by the rise in online trade.
Mrs May said the Government had put in place "protection for the high street" but added: "One of the elements of the new planning rules we are setting out is to make it easier for shops to be turned into housing if that's appropriate, but also for development above retail units to take place."
She said developers should "do their duty for Britain" and build the required homes, saying councils should take into account whether they actually create homes rather than sit on valuable land when deciding whether to grant planning permissions.
"In a market where lower supply equals higher prices, that creates a perverse incentive, one that does not encourage them to build the homes we need."
Former minister Sir Oliver Letwin is examining the situation in the market and Mrs May said: "If he finds evidence of unjustifiable delay, I will not rule out any options for ending such practices."
Mrs May also promised action to protect people in rented homes, saying the "tragedy of Grenfell Tower shone a spotlight on experiences shared by many tenants".
She said that "whether you are renting by choice or necessity, you're not any less of a person for doing so and should not be treated as such".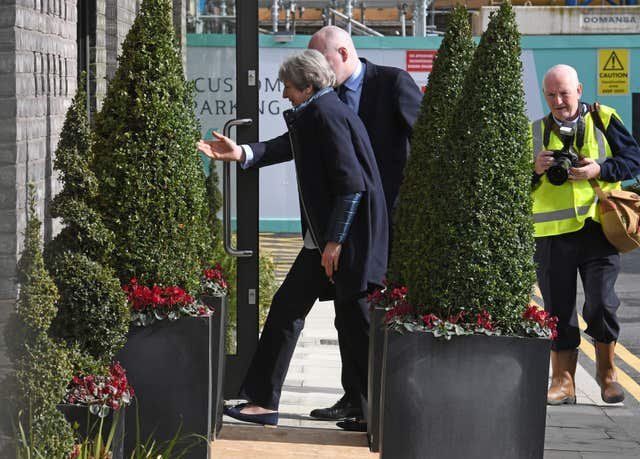 Lord Porter said it was "completely wrong" to blame councils for failures to build and said it was "unhelpful and misguided" to threaten to strip authorities of their rights to decide where homes are built, as Housing Secretary Sajid Javid had done.
Mrs May insisted that authorities in areas where there was the greatest housing need had been given flexibility to borrow.
Shadow housing secretary John Healey said: "We've heard hand-wringing on housing from Theresa May before, but there's nothing new here that will make a difference.
"After eight years of failure, it's clear this Government has got no plan to fix the housing crisis."