How long men and women enjoy a healthy life can vary by more than 25 years depending on the individual part of a town or city in which they live, new statistics show.
Figures released on Wednesday for individual local authority wards in England and Wales showed a wide disparity in the health life expectancy (HLE) of people living just streets apart.
They include both rural and urban areas, some of the richest parts of the country and those with some of the lowest incomes, according to the figures from the Office for National Statistics (ONS).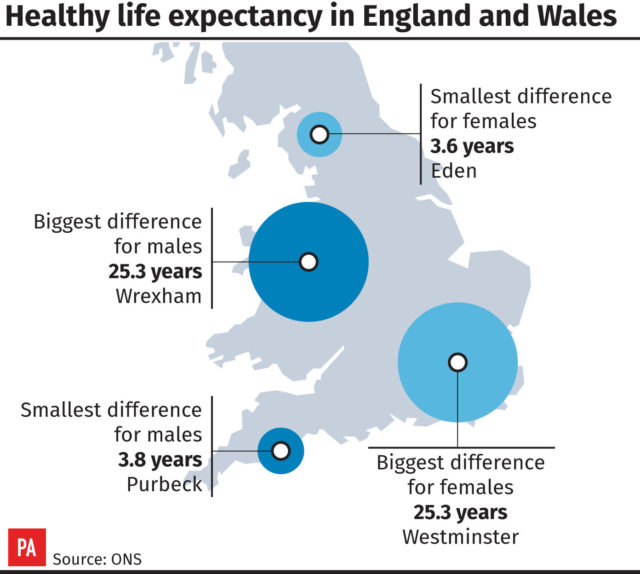 For women the largest discrepancy in average HLE was the City of Westminster at 25.3 years, followed by Bradford in West Yorkshire (23.6), Halton in Cheshire (23.3), Wrexham in North Wales (23.2) and Middlesbrough (23).
In Westminster, women living in Westminster's exclusive Knightsbridge and Belgravia ward, including some of the most desirable addresses in London, have a good life for an average of 78.3 years.
This was in contrast to a figure of just 53.1 years for those in the Church Street ward around a mile away.
For men the largest gap was in Wrexham (25.3 years), followed by Westminster (24.4), Middlesbrough (23.5), North Somerset (22.5) and Cardiff (22.4).
Overall male HLE in Wrexham was 62.1 years but ranged from 75.6 years in the Marford and Hoseley ward to just 50.4 years in its Wynnstay ward.
The figures released by the ONS cover individual local authority wards between 2009 and 2013.
The figures for the worst five, showing a gap of more than 20 years, are in contrast to those areas with the smallest gap.
For men the smallest gap is in Purbeck on the Dorset coast at 3.8 years, followed by Newham in London's East End (4.1), Eden in Cumbria (4.3), Uttlesford in Essex (5.9) and West Devon (5.9).
For women the smallest gap was in Eden at 3.6 years, followed by Purbeck (4.1), West Devon (5.6), Stevenage in Hertfordshire (5.8) and South Norfolk (5.8).
But the ONS noted that similar HLE averages for different areas of the country could hide vastly different quality of life for residents.
He said: "For males, Purbeck and Newham had quite a similar size of inequality in HLE; however, the males living in the wards of Newham were living much fewer years in 'good' health than males living in the wards of Purbeck.
"This demonstrates that although the within-authority inequality was similar in Newham and Purbeck, the vast proportion of the population in these local areas had very contrasting health outcomes.
"Purbeck's low inequality and high HLE is the preferable health landscape for an authority to aspire to.
"Living long, healthy lives with narrow within-authority, small-area disparities is the aim of government policy.
"For instance, HLE at birth for males across all 2011 Census wards in Purbeck exceeded 64.7 years, which was substantially higher than the overall HLE of Newham borough (57.9 years)."