Cash-strapped councils are "raiding their rainy day funds" to cope with growing demand on social services, the public spending watchdog has said.
Government funding for local authorities has fallen by an estimated 50% since April 2011, heaping added pressure on strained finances and forcing councils in England to cut back on repairing roads, refuse collections and libraries, according to the National Audit Office (NAO) root-and-branch examination of town hall accounts.
It found authorities' financial positions have "worsened markedly", particularly for those councils which have social services departments, with several authorities struggling to balance their books and diving into their reserve funds – with 66.2% of local authorities with social care responsibilities dipping into their financial reserves in 2016-17.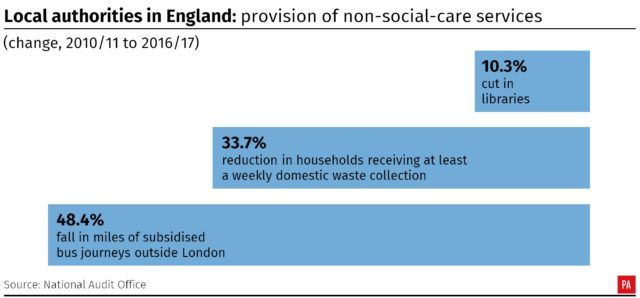 NAO head Amyas Morse said: "Current funding for local authorities is characterised by one-off and short-term fixes, many of which come with centrally driven conditions.
"This restricts the capacity of local authorities and yet the weight of responsibility to respond to increased demand and maintain services remains very much on their shoulders.
"The Government risks sleepwalking into a centralised local authority financial system where the scope for local discretion is being slowly eroded."
During the period from 2010-11 to 2016-17, the estimated number of people aged 65 and over in need of care increased by 14.3% while the number of children being looked after grew by 10.9%.
It meant local authorities' financial support for social care rose from 45.3% of its total service spend to 54.4% during that period.
Although authorities' spending on social care fell from 2010-11 to 2016-17, other areas suffered much more pronounced reductions.
These included 52.8% less for planning and development, 45.6% on housing services, 37.1% on highways and transport, and 34.9% on cultural and related services.
The NAO also found the number of weekly household rubbish collections dropped 33.7% in the period, while domestic recycling rates only increased by two percentage points.
The number of libraries dropped by 10.3%.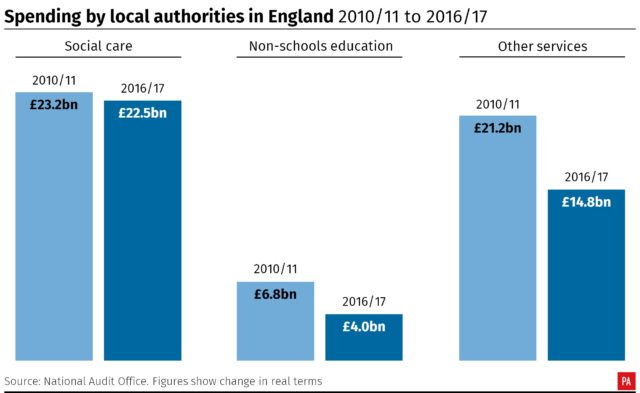 "A combination of reduced funding and higher demand has meant that a growing number of single-tier and county authorities have not managed within their service budgets and have relied on reserves to balance their books. These trends are not financially sustainable over the medium term."
The report added there was a £901 million overspend on service budgets by local authorities in 2016-17.
One authority – Northamptonshire County Council – effectively banned all new expenditure apart from statutory services for safeguarding vulnerable people, due to increased pressures on its finances.
Meg Hillier, who chairs the Public Accounts Committee said councils "have had to make stark choices about which services they continue to provide".
"Councils need to know what their long-term future is, but instead of sorting this out, Whitehall has used a series of short-term fixes to paper over the cracks."
Lord Porter, chairman of the Local Government Association, said: "Councils' ability to maintain local services at a time of inadequate resources and rising costs is already extremely stretched, and the NAO rightly warns about the huge uncertainty over how the Government intends to fund local services after 2020.
"The Government needs to urgently address this cliff-edge and the growing funding gaps facing local services."
Responding to the report, a Government spokesman said: "Last month, Parliament approved a funding settlement which strikes a balance between relieving growing pressure on local government and ensuring hard-pressed taxpayers do not face excessive bills.
"As part of this, we delivered a real terms increase in resources over the next two years, more freedom and fairness, and greater certainty to plan and secure value for money.
"We are currently working with councils to undertake a review of their needs and resources. Our consultation on this closes on Monday, and all responses will be considered as we look to devise a new funding system."