UK ministers will seek to amend their Brexit bill without securing agreement from Scottish and Welsh counterparts.
Whitehall, Holyrood and Cardiff Bay are deadlocked over how to handle the repatriation of responsibilities from Brussels, with the devolved administrations accusing Theresa May's Government of a "power grab".
Cabinet Office Minister David Lidington said he hoped a deal could be done with Wales and Scotland but it was time for Parliament to examine the proposed changes.
The Cabinet Office said the amendment will mean that all EU powers that "intersect with devolved competencies" will go directly to Holyrood and Cardiff Bay.
But there would be a provision for the UK Government to maintain a temporary "status quo" arrangement over a small number of returning policy areas where an agreement for a UK framework had not been reached in time for Brexit.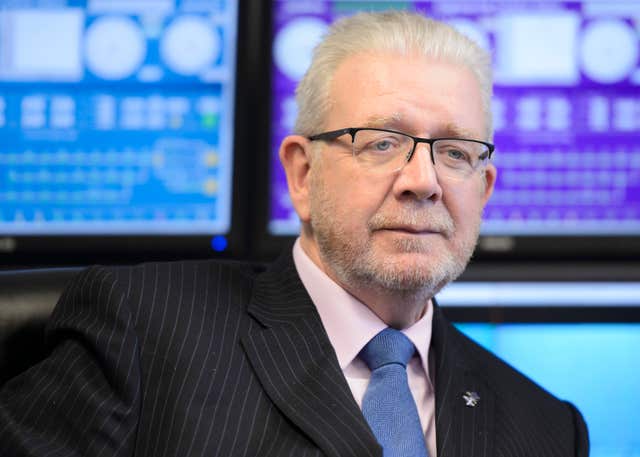 "It was deeply disappointing that the UK Government did not bring forward any new proposal today and are pressing ahead with a bill that, even with their proposed amendment, would allow them to unilaterally take control of devolved powers without the agreement of the Scottish Parliament," he said.
He said: "While I remain hopeful that a deal can still be done, we have a longstanding commitment to Parliament to bring forward an amendment and will now table it – as discussed with the devolved administrations.
"I strongly believe our proposal would respect and strengthen the devolution settlements across the UK and do so in a way that still allows the UK Government to protect the vitally important UK common market, providing much-needed certainty and no new barriers for families and businesses.
"The UK Government has a proven track record on devolution, our amendment is reasonable and we have moved a considerable way on it."
He promised further talks with the devolved administrations in the hope of reaching agreement around how this "relatively small number of EU powers" are managed in the early days of Brexit.
First Minister Nicola Sturgeon and Carwyn Jones are due to hold talks with the Prime Minister next week.
After the latest meeting of the joint ministerial council, Mr Russell told reporters he was concerned about an attempt to "bounce" the devolved administrations into agreement.
Both the Scottish and Welsh governments have produced plans for continuity bills as a fallback option to deal with legal uncertainties caused by Brexit if they cannot agree to consent to the UK Government's legislation.
"So we are proceeding on tracks that appear to be diverging, it is still possible for those tracks to come together and the aim of a meeting like today is to see if that can be done and we are trying to do so."
Welsh Government Finance Minister Mark Drakeford said he hoped the amendment would be the basis for further talks rather than Whitehall's "final word".
He said the latest meeting was "constructive" but he was "frustrated" that more progress had not been made on the amendments promised by the UK Government in December.
He said: "The minute we reach an agreement with the UK Government and the Scottish Government on an amendment that we can all sign up to, the need for a Continuity Bill will evaporate.
"But because we are not there yet we can't afford to take that off the table."
He said that "if I was being optimistic" next week's meeting of the Prime Minister, Mr Jones and Ms Sturgeon could produce a "political agreement that we have found a path through the remaining obstacles" to a final deal.
But even then there would need to be detailed work to put that into a form which could be considered by peers as the legislation goes through the House of Lords.