New York City mayor Bill de Blasio proclaimed this year's St Patrick's Day as Gerry Adams Day.
He made a proclamation honouring the former Sinn Fein leader at a special event ahead of the Fifth Avenue parade.
It read: "I, Bill de Blasio, Mayor of the City of New York, do hereby proclaim March 17 2018 in the city of New York as 'Gerry Adams Day'."
Mr de Blasio said Mr Adams did not accept injustice, he did not tolerate it and he fought against it.
"In every way he has been an activist," he said.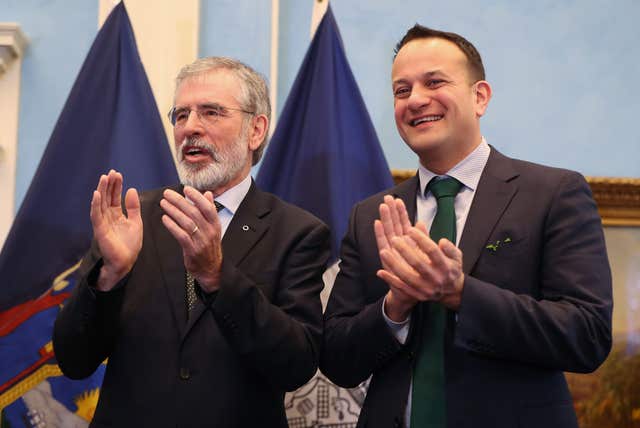 "He understood there's no place in the world anymore for colonialism and he fought against that with all that he had.
"Remember that great ideas never die, they may be set back sometimes, but they never die. And I honour Gerry Adams for his lifelong pursuit of a goal that makes that makes so much sense, the goal of a united Ireland.
"Gerry has in all he has done, accepted that a life of fighting for change came with peril, came with the threat of violence and the experience of being attacked. It came with condemnation, it came with arrest and times in jail."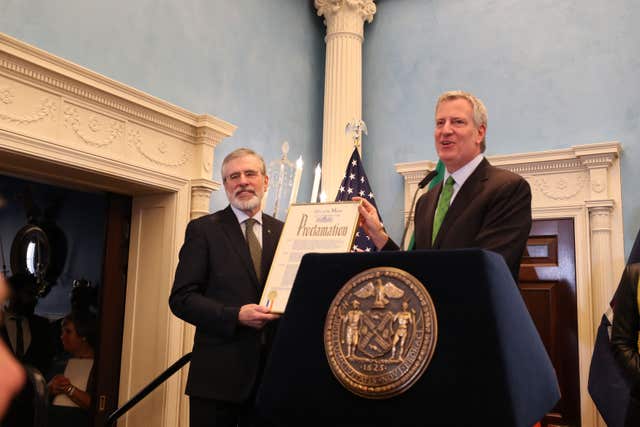 "I have to say that Happy Gerry Adams Day doesn't have the same ring as Happy St Patrick's Day," he said.
Mr Adams hailed New York as a great city: "I would often reflect to myself: If you can all live here in relative harmony, if you can all live here together, surely in our small island we can create the conditions where our people can live in harmony and prosperity and peace and equality together?"
"We still have a lot to do, we need rights, we need equality, we need a referendum on Irish unity so the people can decide for themselves," Mr Adams said.
Taoiseach Leo Varadkar said it was not helpful to call for a united Ireland and that the priority was to get the Stormont executive back up and running.
Mr Varadkar said: "It's not our tradition to name days after any particular individual in Ireland. It is a tradition here and obviously I extend my congratulations to Gerry on that honour being bestowed on him by the city of New York."