The Duke and Duchess of Cambridge faced down snowfall and ferocious winds to watch a traditional St Patrick's Day parade of the Irish Guards.
Some 350 soldiers arrived on the Parade Square in their red regalia, led by Irish wolfhound Domhnall.
Kate, who is due to give birth to the couple's third child next month, wore a green Catherine Walker coat and a Gina Foster hat as she presented the shamrock to officers and warrant officers.
Betraying no awareness of the biting temperature, she smiled and chatted to each of the military men in turn, finally fastening a shamrock to the collar of Domhnall.
William took the salute as the regiment continued a march-past and three thunderous cheers were then declared to the royals.
Earlier, Domhnall's handler, Drummer Aidan Cathcart, jokingly expressed reservations that his charge would behave.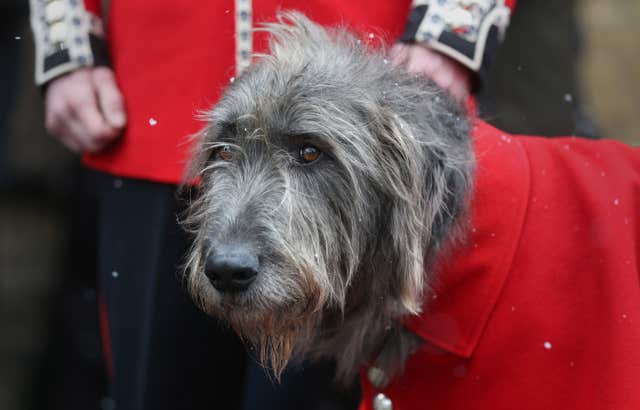 Asked if he was confident Domhnall would perform as planned, he replied, bluntly: "No."
The wolfhound – the regiment's longest serving mascot since 1985 – had been doing test runs all week to prepare for his moment in front of the royals.
It is the fifth time he has received the shamrock and the second time he has been handled by Drummer Cathcart.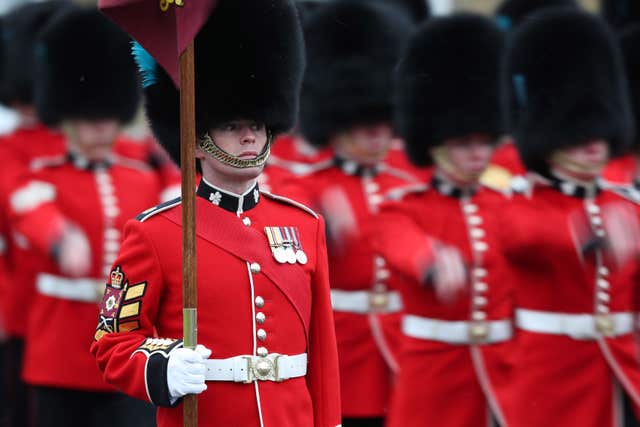 Also among the guests on Saturday was the Irish Defence Force's most senior military officer, chief of staff Mark Mellett.