Wentworth Woodhouse was one of great mansions of Georgian England but slid into neglect and disrepair during the second half of the 20th century.
– The building is actually two grand houses, built back-to-back. The baroque West Front was built for the 1st Marquess of Rockingham from about 1725 but it is the slightly later, 606ft wide, Palladian East Front which is the behemoth.
– In 1792 the estate was inherited by the 4th Earl Fitzwilliam, beginning a long relationship between this aristocratic family and the surrounding community.
– One room was created to house Stubbs's famous painting of the family's racehorse, Whistlejacket. The work was sold to the National Gallery for £11 million in 1997.
– The 60ft square Marble Saloon was called the finest Georgian room in England.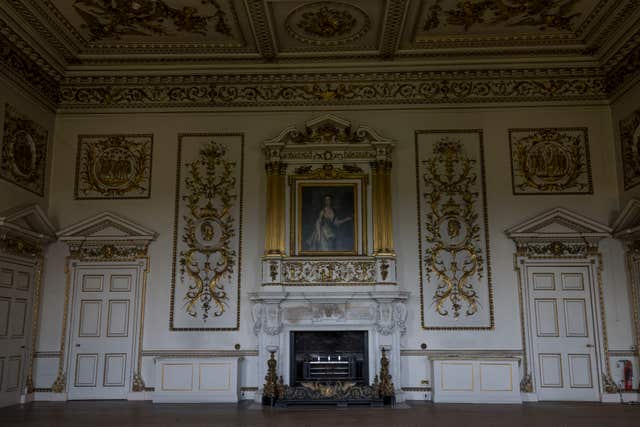 – More than 1,000 people were employed by the house and estate in the mid 19th century, including a "rat catcher" and "state bed maker".
– When King George V stayed in 1912 he needed 76 bedrooms for his entourage.
– After the Second World War, open-cast mining devastated the estate with workings coming almost to the door of the house. Many saw this as a vindictive act of class warfare by Labour minister of fuel and power, Manny Shinwell.
– The 8th Earl Fitzwilliam died in a plane crash in 1948 along with Marchioness of Hartington, the younger sister of John F Kennedy. He left no male heir.
– After the death of the 8th Earl the house began to decline. A sale of valuables at the time included 14 four-poster beds. It was later used as a teacher training college.
– The Fitzwilliam family ended its connection with the house in 1979, with the death of the 10th and last Earl. The house and 83 acres were sold to a private buyer.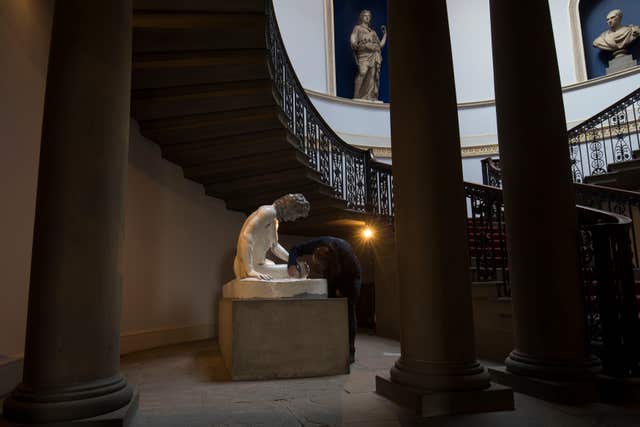 – In 1999 architectural historian John Martin Robinson wrote that "the failure of Wentworth Woodhouse to become a stately home open to the public after the Second World War and thus to have secured its future like Chatsworth or Woburn is an architectural tragedy".
– The house was bought by architect Clifford Newbold in 1999 who hoped a huge legal claim against the Coal Authority for mining damage would help him restore the house. But this failed.
– The house was bought by the Wentworth Woodhouse Preservation Trust in 2017, partly funded by a £3.5 million grant from the National Heritage Memorial Fund.
– As well as the vast mansion, the trust bought 83 acres of land immediately around it; the stable block, which is almost as large as the house; and a range of other buildings, including the huge, derelict Camelia House.
– Wentworth Woodhouse is regularly used as a film location – appearing as Buckingham Palace in the recent hit movie Darkest Hour and also in the BBC drama Victoria.