A drink driver was told to "rot in hell" as he was jailed for 13 years for killing three boys as they walked to a 16th birthday party.
Jaynesh Chudasama, 28, was more than two-and-a-half times the limit and doing 71mph on a 60mph road in Hayes, west London, when he ploughed into the teenagers, sending them flying through the air.
The car hire worker, who also had traces of cannabis in his system, pleaded guilty to causing the death by dangerous driving of semi-professional footballer Harry Rice, 17, apprentice electrician George Wilkinson, 16, and labourer Josh McGuinness, 16.
Families and friends of the boys vented their anger and grief as they packed into the Old Bailey for his sentencing.
They labelled the defendant a "coward" for running away and leaving the boys to die in the road.
Josh's mother Tracy Blackwell told him: "You are going to rot in hell, mate."
Sentencing, Judge Wendy Joseph QC said: "It is obvious that nothing any court can do can measure the loss of Josh, Harry and George for the obvious reason that their loss is immeasurable."
She jailed the defendant for 13 years and disqualified him from driving for 13 years and six months.
Harry's brother Matthew said: "I'm protesting because my brother was ruthlessly taken away with his two friends by a callous driver who got in a car knowing he was going to drive the vehicle under the influence.
"He should not see the light of day, end of story."
The maximum punishment for causing death by dangerous driving is 14 years in prison however the court heard Parliament is considering proposals for life sentences for the most serious cases.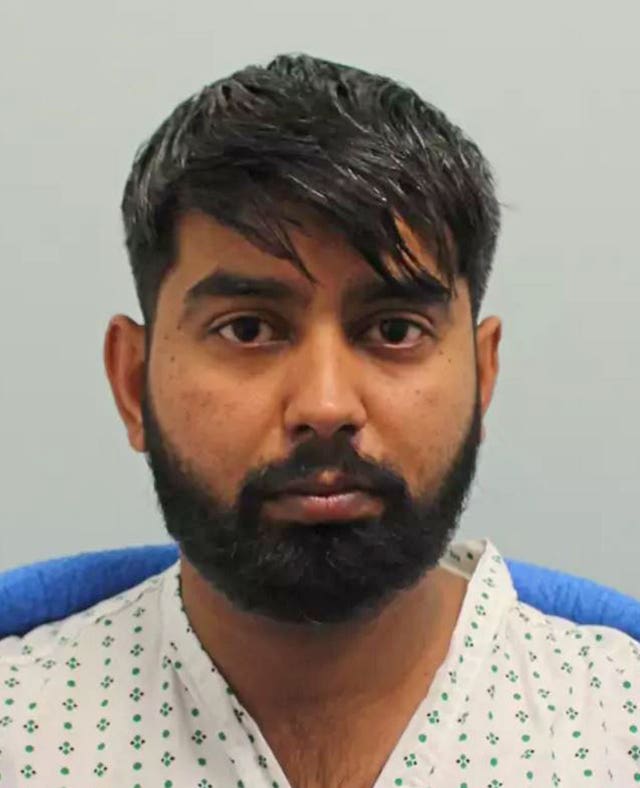 The defendant was described by another motorist as "driving like a bat out of hell" as he swung his Audi out to overtake on Shepiston Lane, lost control and hit the boys head-on.
They were thrown into the air as the car spun around in the road three times.
Chudasama, of Hayes, and his passenger got out and ran off, pursued by two boys, who dragged him back to where their friends lay dying.
Meanwhile, a girl held George's hand as he lay half in the road and half on the pavement with terrible head and neck injuries.
He had died instantly, along with Josh, who was struck with such force that he was sent over a fence and into a cemetery.
Harry was carried on the bonnet of the car which crashed into the cemetery wall, crushing his body, the court heard.
The school friends' families described "every parent's worst nightmare" in tearful statements in court.
George's mother Sarah Baker said: "That awful night my son was taken from me will stay with me and haunt me for the rest of my life."
Mrs Blackwell said the boys were killed in "circumstances I can only describe as murder".
Harry's father Ian Rice said: "We were all so proud of Harry's achievements in his pursuit of his ambition to play professional football."
One of the friends who was with the boys when they were killed described "flashbacks of seeing the boys' bodies catapulted in the air".
She suggested "peer pressure" on a night out with skateboarding friends may have influenced his decision to drink and drive.
But Judge Joseph said he was not remorseful when he ran from the scene and failed to explain himself to police when he was arrested.
She said the loss of three boys with "different, exciting and admirable plans for the future" had caused pain, anger and despair.
Commenting on the sentencing, Detective Superintendent Andy Cox of Scotland Yard said: "While this will be of little comfort to the families of George, Josh and Harry, I hope this acts as a stark reminder to others of the devastating consequences that dangerous driving can have."