Police have arrested two men on suspicion of planning acts of terror.
Loud bangs were heard as Counter Terror officers forced their way into two addresses in Savile Town, Dewsbury, West Yorkshire.
Counter Terrorism Policing North East said men aged 52 and 21 were arrested "on suspicion of being concerned in the commission, preparation or instigation of acts of terrorism".
They have been detained at a police station in West Yorkshire for questioning, and two homes were being searched in connection with the ongoing investigation.
A spokeswoman for the unit said: "The public may have heard loud bangs at the time police entered the properties.
"We would like to reassure them that this was part of the method of entry to gain access."
The arrests were planned and "part of a proactive, intelligence-led investigation", the unit said.
They were not linked to an ongoing malicious communications investigation into the so-called "Punish a Muslim" letters.
West Yorkshire Police Superintendent Marianne Huison said: "I understand our local communities will have concerns about this morning's police activity, but I want to offer my reassurance that we will continue to serve and protect the public of West Yorkshire.
"We work very closely with our colleagues in CT Policing North East and with local partners and we will ensure we maintain these strong links in order to provide a high level of service and delivery to everyone in our community.
"Public safety is our utmost concern."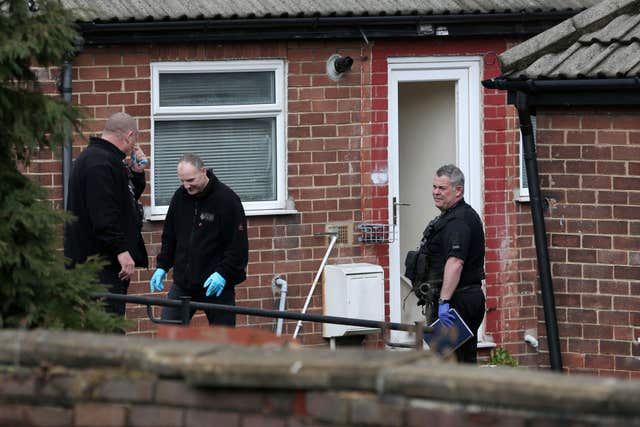 A large police presence, including armed officers, remained outside the first house, a semi-detached bungalow-type property.
Neighbours said an elderly lady used to live at the address until her death and the house has since been rented out, with the blinds always kept closed and few people seen coming and going.
Locals said there had been a raid, or police activity, at this property, a couple of months ago.
Further down the street forensics officers wearing purple gloves could be seen going in and out of another property.
A neighbour who lives over the road said: "I was up in my living room about half 12 last night and heard a very loud bang. It was very loud, they heard it in town.
"I thought it was to do with this, 'Punish a Muslim' thing. I called the police myself.
"I looked outside and there was armed police crouched down and more police at the door and a load of smoke in the street."
The neighbour said his father told him around two hours later a young man was taken away by armed police, handcuffed, and the rest of the family were also escorted off the premises by police.