Nearly eight out of 10 companies and public sector bodies pay men more than women as the deadline passed for organisations to report their gender pay gaps.
Businesses with 250 employees or more were required to submit the data on mean and median gender pay gaps to the Government Equalities Office by midnight on Wednesday.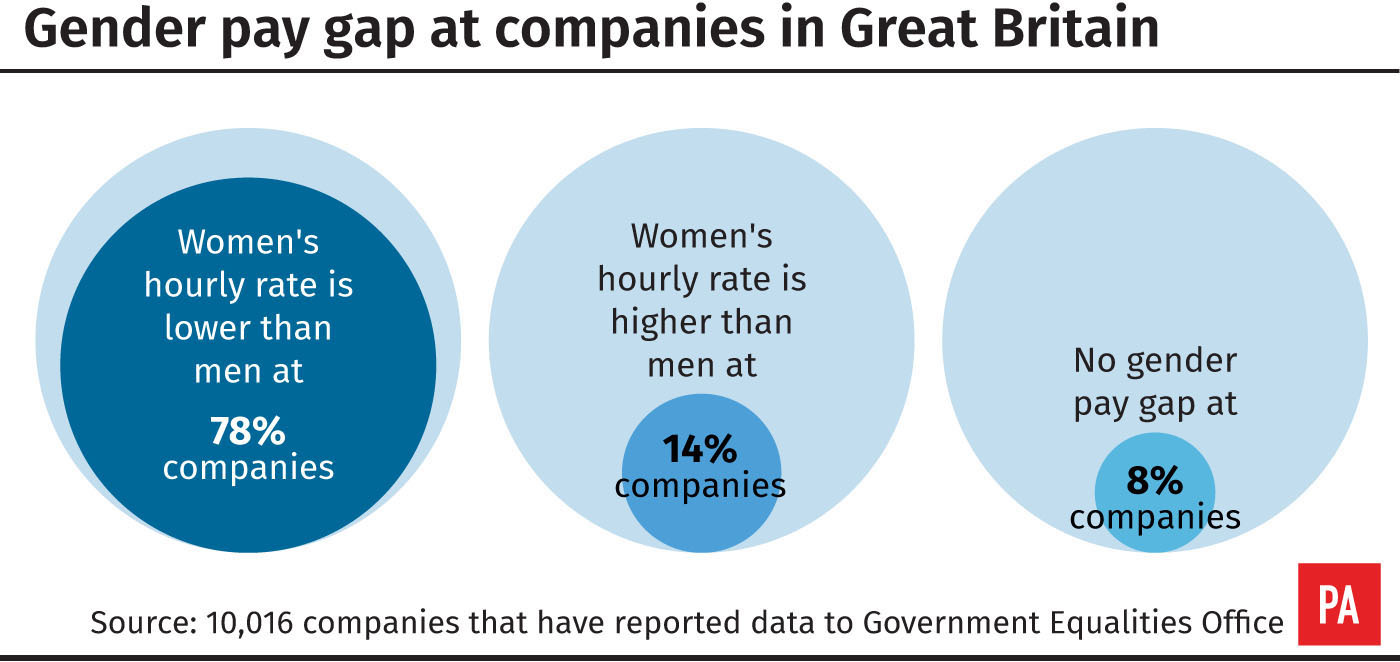 More than 10,000 companies submitted their data, with 78% of the 10,015 firms having a pay gap in favour of men.
Ryanair is one of the best-known company in the top 10 of those with the worst gender pay gap, along with the holding company for Millwall FC.
It says the disparity is because of the number of UK pilots it employs – 546 are male and only eight are female.
Millwall Holdings PLC reported a median gender pay gap of 80%, compared to an average across all companies who have submitted data of 12%.
Meanwhile, a handful of employers have already filed figures for the 2018/19 financial year, including the Conservative Party's campaign headquarters, which has reported a gender pay gap in favour of women of 15.7%.
The Tories did not publish a figure for 2017/18 as the party's campaign HQ did not employ 250 or more employees. That threshold has now been passed, however.
Labour has reported a gender pay gap of 4.0% in favour of men, but this snapshot was taken on April 5 2017, and is not directly comparable with the Conservatives' figure which is a snapshot as of April 5 2018.
Sam Smethers, chief executive of the Fawcett Society, said: "Gender pay gap reporting is a game changer in terms of workplace culture and practices. It forces employers to look at themselves and understand their organisations and it prompts employees to ask some hard questions.
"But even better than that, finally women are realising that they have a right to talk about pay and they cannot be silenced.
"By finding out what their colleagues earn they are then in a position to challenge any pay inequality. It is much more common than people realise."
Companies who do not provide their figures will face legal action including court orders and fines, but only after they have been given a month's grace to report the figures.
The Equality and Human Rights Commission (EHRC) said it will write to employers who have not complied on April 9, giving them 28 days to publish the figures "before an investigation takes place and an unlawful act notice is issued".
Courts can impose an unlimited fine on those who do not comply.
Chief executive of the EHRC Rebecca Hilsenrath said: "This is not optional; it is the law and we will be fully enforcing against all companies that do not report.
"This legislation is in place to bring about better gender equality in the workplace and any employer not complying needs to ask themselves tough questions, re-think their priorities, be prepared for serious reputational damage, and be ready to face a very unhappy workforce."
Of the largest employers in the UK – those with 20,000 people or more on their books – Lloyds Bank had the largest median pay gap at 42.7%, followed by the Royal Bank of Scotland (36.5%) and Lloyds Banking Group (32.8%).
At the other end of the scale, American Airlines had a gap in favour of women (-3.9%) as did British Telecommunications (-2.3%), while Primark, McDonald's and Costa were among those reporting no wage gap.
Of the 353 councils in England, 322 reported their gender pay gap figures.
North Hertfordshire District Council has the worst median gender pay gap, paying women 34% less than men on average.
A total of 25 councils have no gap, while Adur District Council in West Sussex posted a gender pay gap of 50.3% in favour of women.
A spokesman for the Institute for Fiscal Studies said: "The gender wage gap has barely fallen over the last 15 years and greater understanding of its determinants are needed.
"The new data being provided by employers could help contribute to that. As ever, however, the statistics are limited and need to be interpreted with care."
The gender pay gap is calculated as the difference between the average salaries of men and women – it is not the same as equal pay, where firms are required to pay people doing the same job the same salary regardless of gender.