Sir Cliff Richard has arrived at the High Court ahead of giving evidence in his case against the BBC.
The 77-year-old singer claims coverage of a police raid on his home following an allegation of sexual assault was a "very serious invasion" of his privacy.
He is suing the BBC for "substantial damages" and the trial, being heard by Mr Justice Mann, started on Thursday.
BBC bosses dispute his claims.
A barrister leading Sir Cliff's legal team told Mr Justice Mann on Thursday that BBC coverage of the search at the singer's apartment in Sunningdale, Berkshire, in August had a "prolonged impact" on the star.
He said the singer should get compensation at the "very top end of the scale".
The BBC says its coverage of the police raid on Sir Cliff Richard's apartment was accurate and in good faith.
Lawyers representing BBC bosses told Mr Justice Mann that the raid was a "matter of legitimate public interest".
Metropolitan Police officers passed the allegation to South Yorkshire Police in July 2014.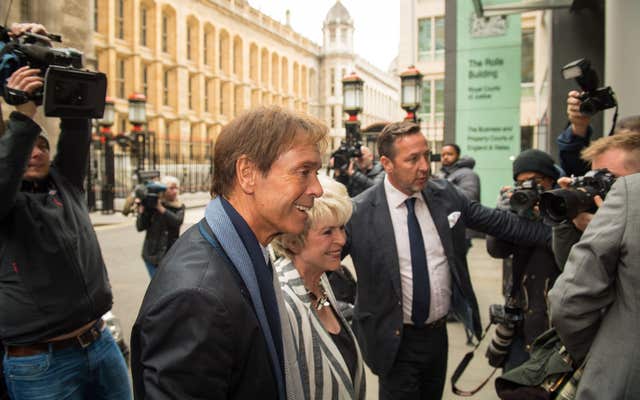 A BBC spokesman has said the BBC reported Sir Cliff's "full denial of the allegations at every stage".
Lawyers representing South Yorkshire Police are expected to outline their case on Friday, following which Sir Cliff is due to give evidence.
The trial is due to last 10 days.