The harsh winter led to one of the worst three-month periods for pothole-related breakdowns, new figures show.
Breakdown rescue firm the RAC said the proportion of call-outs caused by issues such as damaged shock absorbers, broken suspension springs and distorted wheels reached 2.3% between January and March.
This is almost double the rate during the previous three months and equates to 5,540 cases.
Since RAC records began in 2006, only two three-month periods – January to March in both 2015 and 2017 – saw a higher proportion of pothole-related breakdowns.
A better indicator of the true state of the UK's roads is expected to be revealed in figures for April to June as the Beast from the East brought snow and freezing weather towards the end of the previous quarter.
RAC chief engineer David Bizley said: "Anecdotally, few would disagree that the harsh cold weather experienced over the last three months has led to a further deterioration of road surfaces.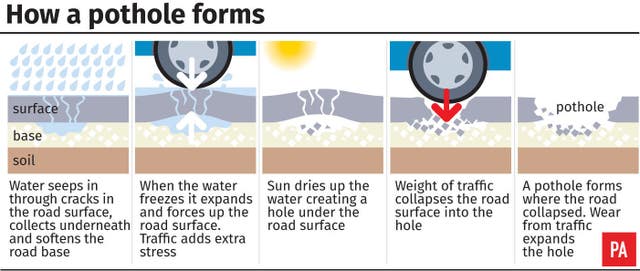 "For this reason we feel we are likely to see more vehicles suffering pothole damage in the second quarter of 2018 compared with recent years.
"The Government has made additional funding available through yet another emergency pothole fund, but at best this will only allow councils to patch up roads that in many cases are in desperate need of longer term preventative maintenance."
A Local Government Association spokesman said: "When exceptional weather occurs, the impact on local roads can be significant.
"It's essential this is measured and that funds are provided for serious repairs so that traffic can move freely through our communities, and local economies and businesses aren't impacted."