A "completely innocent" student has been stabbed to death metres from his home.
The 18-year-old, named locally as Sami Sidhom, was knifed in the back in Chestnut Avenue, Forest Gate, east London, where he lived with his grandmother and father, at around 10.50pm on Monday.
Witnesses said they saw the "smiley, skinny, humble" teenager attacked by up to four men who sped off in a silver car.
His death comes as the number of murder investigations launched by the Metropolitan Police so far this year nears 60.
Neighbour Tariq Bhugeloo, who came to lay flowers at the scene, said: "He was a smiley, skinny, humble guy. Never involved in any trouble.
"Sami was always outside polishing his car – a new black Audi A4. His grandfather passed away recently, so with the inheritance he bought this car. I saw him on Saturday and joked with him that he'd missed a spot. He was a completely innocent guy.
"I didn't hear the scream because I'm at the back of the house, but my brother did and went out with towels to help stop the blood. There was just so much."
His brother Said Bhugeloo was one of the first to attend the teenager.
"I heard a guy shouting 'Help, I've been stabbed' and saw him stumbling outside my house," said the 29-year-old. "I grabbed some towels and ran out. He was bleeding so heavily. One of the neighbours is a medical student and he was trying to help. The police turned up 10 minutes later but he was in a really bad way."
Mr Bhugeloo left some flowers outside the house where the teenager lived. A message read: "This shouldn't have happened. We tried to help. I'm so sorry."
A childhood friend of the student, believed to have been studying at Queen Mary University of London, said he was "a good guy".
"I spoke to him yesterday. We were talking about West Ham. He was a good guy, it's his 19th birthday in a few months. He has never been involved in any crime. He has a nice car, but that was from his granddad. I just can't believe it."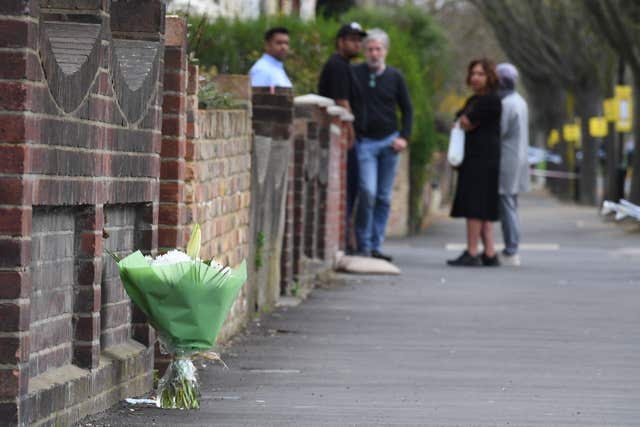 "I looked down and saw four men attacking someone on the ground," said the wife, who asked not to be named.
"I shouted 'get off him' out of the window to try and make them stop, and they jumped into two different cars and sped off down Avenue Road.
"The boy on the ground was screaming but by the time I got to him he had run down the street, probably 100 yards, and he collapsed on the ground. He was still conscious but he was losing blood quickly.
"I used my child's towel to try and stem the flow. It's still there now. The police took around 15 minutes to get here, but he was unconscious by then. Everyone came out and tried to help him, but there was so much blood. There was nothing we could do."
One resident, who did not want to be named, said he saw a man knife the teenager in the back and then jump into a silver car, which sped off.
"I heard a commotion outside my house and then saw one man with a knife stab the guy in the back. There was another man there too and they jumped into a silver car and drove away.
"The guy who had been stabbed was screaming 'help me, help me'."
Another neighbour who lives opposite the scene said he tried to help the teenager, but he was losing too much blood.
"I heard a car race down the street and stop. Then I heard a scream, and the car sped off. I came out and there were already people trying to stem the flow of blood with towels, but there was just too much.
"The boy was groaning. It looks like he was stabbed in the back, with the knife thrust up into his chest. By the trail of blood, you could see he was trying to get back to his house, but he died a few doors down.
"The air ambulance doctors were working on him in the street but I'm pretty sure he was dead before the official time of death."
The man, who has lived in the area since 1984, did not want to give his name.
Mayor of London Sadiq Khan said: "My heart goes out to the friends and family of the teenager who lost his life in Forest Gate last night. I am in close contact with the police and I am reassured that they are doing everything they can to bring those responsible to justice and keep Londoners safe.
Police have not formally identified Mr Sidhom and have not made any arrests. They have urged any witnesses to call 101.
Scotland Yard said that no car was stolen from the scene.
Detective Inspector John Marriott, who is leading the investigation, said: "We are at the early stages of the investigation, but are keen to hear from anyone who may have been in the area last night and may have seen or heard anything.
"It doesn't matter how big or small you think your information may be; it could be the piece of the puzzle that helps bring the person that killed a young man to justice."