The European Union is "pushing back" against the UK's proposals for keeping the Irish border open after Brexit, David Davis has confirmed.
Mr Davis was speaking a day ahead of a crucial meeting of Theresa May's "Brexit inner cabinet" to thrash out the Government's position on future customs arrangements.
Unconfirmed reports earlier this month suggested that EU officials had dismissed both UK proposals – a 'customs partnership' under which Britain would collect tariffs on the EU's behalf and a 'streamlined arrangement' using technology to avoid the need for border checks – as unworkable.
Now the Brexit Secretary has told the House of Lords EU Committee: "The Commission did push back on both.
"They were concerned about how we would run a new customs partnership on the one hand, and they were – in the context of Northern Ireland – objecting to the notion of exempting small businesses from the streamlined arrangement."
Brussels is concerned both by the prospect of "porosity" on the EU's external border and by the risk of creating a precedent which might be copied elsewhere, he said.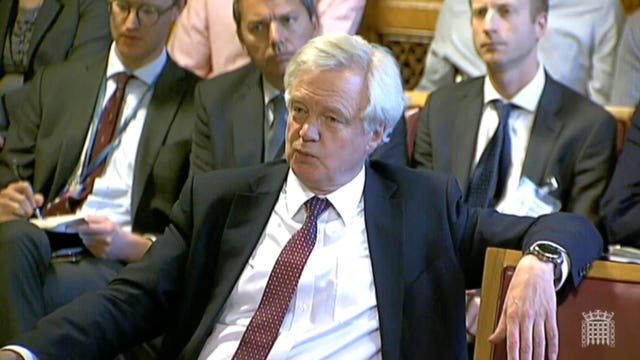 Meanwhile, Mr Davis warned that the UK could be left "in a sort of limbo" if it fails to ratify a new agreement on its future trading relationship with the EU by the end of the Brexit transition period in December 2020.
Mr Davis said he wanted a "pretty substantive" political agreement on the future in place by October, ready to be signed soon after the official date of Brexit in March 2019 and ratified by parliaments across Europe during the 21-month transition.
He admitted it will be "difficult" to get the separate EU withdrawal deal through Parliament  in the autumn if the Government has no more than a broad political declaration in place by that time.
"Parliament will vote more than once on the withdrawal agreement and I would be surprised if parliamentarians are happy to vote for the expenditure of £35-39 billion without knowing what we are getting for it," he said.
Asked how he hoped to secure parliamentary backing, in the wake of a string of defeats in the House of Lords, he replied: "By getting a good deal."
And he acknowledged that this will depend on persuading Brussels to negotiate 40 or more workstreams simultaneously.
"If we try to do 45 different subjects in sequence, I will be dead and buried and probably my grandchildren will be dead and buried before we get there," he said.
"We have got to do it in parallel. We are on that now and I think we are going to be there soon-ish."
Mr Davis said the Government aimed to have large amounts of detail on the future framework – maybe even including legal wording – "nailed down" by the formal date of Brexit in March 2019.
"I would be aiming to conclude the negotiations if I can get to that point by then, so they can sign and then start the ratification process," he told peers.
The framework will have to be ratified by the European Parliament, both Houses of Parliament in Westminster and national and regional assemblies in the 27 remaining states he said.
And he warned: "We absolutely need to have ratification completed before the implementation period is over, otherwise we are in a sort of limbo."
Eloise Todd, the chief executive of the Best for Britain campaign against hard Brexit, said: "It's a classic Brexit rewrite. Yesterday David Davis told us he had 'put forward proposals' on the Irish border and echoed (Michel) Barnier's concern that a solution to the Irish border question is found rapidly.
"Today instead we're informed the exact opposite: that the Government is still drawing up proposals with that he hopes will be tied up in October. The reality is pretty stark – David Davis is clueless."