A terminally ill man has said he should not have to undergo a "distressing and undignified" death as judges consider his Appeal Court challenge against a ban on assisted dying.
Motor neurone disease sufferer Noel Conway, who says he feels "entombed" by his illness, is fighting a legal battle for the right to enlist help from medical professionals to bring about his death.
The 68-year-old retired lecturer from Shrewsbury wants to be helped to die – which the law currently prevents – when he has less than six months left to live, still has mental capacity to make the decision and has made a "voluntary, clear, settled and informed" decision.
He has proposed that he could only receive assistance to die if a High Court judge determined that he meets all three of those criteria.
Nathalie Lieven QC said: "The question for this court is not a very generalised one of the morality or ethics of allowing doctors to assist patients to die.
"The question for this court is rather a focused one of whether for this very specific cohort, ie, terminally ill people with less than six months to live, the ban is justifiable because of an impact on the weak and vulnerable."
Mr Conway previously asked the High Court for a declaration that the Suicide Act 1961 is incompatible with Article 8 of the European Convention on Human Rights, which relates to respect for private and family life, and Article 14, which protects from discrimination.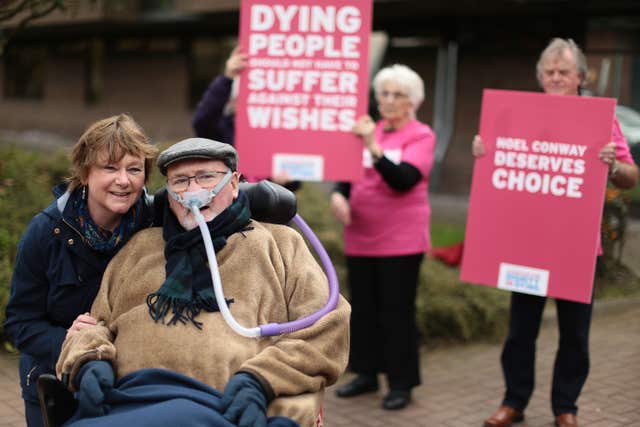 His case was rejected in October last year, but a full appeal against that ruling will begin on Tuesday.
Mr Conway is too unwell to travel to London for the hearing but will watch proceedings over a video link from Telford Crown Court.
In a statement ahead of the hearing, he said he is now dependent on a ventilator for up to 23 hours a day and only has movement in his right hand, head and neck.
Mr Conway said his current options are to "effectively suffocate" by choosing to remove his ventilator or to spend thousands of pounds travelling to Switzerland to end his life and have his family risk prosecution.
Ms Lieven told the court there is "serious objective evidence" upon which Mr Conway concludes there is a real risk his death would not be "quick and painless" if he refuses ventilation.
The barrister argued that a proper analysis of the safeguards proposed by Mr Conway would have shown that the current "blanket ban" on assisted suicide is not necessary.
She said the proposal of having a High Court judge oversee the process was "at the heart" of the issue.
Ms Lieven also argued Mr Conway's proposals could not pose any "wider risk" to society.
"It could not therefore, per se, give rise to any increase in risk of death amongst (for instance) those with disabilities who are not terminally ill, and hence any wider risk to the general community.
"Indeed, it could just as easily be said that the real question is not whether the wider interests of society require Mr Conway to be denied assistance with dying, but whether society, as a whole, can be said to have any legitimate interest in denying Mr Conway any choice in when and how he dies in circumstances where he is already dying – in other words, to exercise one of the few meaningful decisions about his end of life that remain available to him."
Ms Lieven said it was for Mr Conway to decide what he considers to be "distressing and undignified" and that he is the "best judge" on a matter as "intimately personal" as how he dies.
Mr Conway is being represented by law firm Irwin Mitchell and supported by the campaign group Dignity in Dying.
His appeal is opposed by the Secretary of State for Justice, with Humanists UK, Care Not Killing and Not Dead Yet UK also making submissions.
The appeal before Sir Terence Etherton, Sir Brian Leveson and Lady Justice King is expected to last three days.