Newly elected Sheffield City Region mayor Dan Jarvis said a conversation about the future of Yorkshire devolution is needed with the new Communities Secretary James Brokenshire within days.
The Labour MP was elected on Friday to a post which still has no defined powers, no attached money or even a set salary and also places him at the heart of a deep devolution controversy.
Mr Jarvis is a committed supporter of a devo solution involving the whole of the Yorkshire and Humber region, a stance which appears to put him at odds with two of the main local authorities in the Sheffield City Region – Rotherham and Sheffield.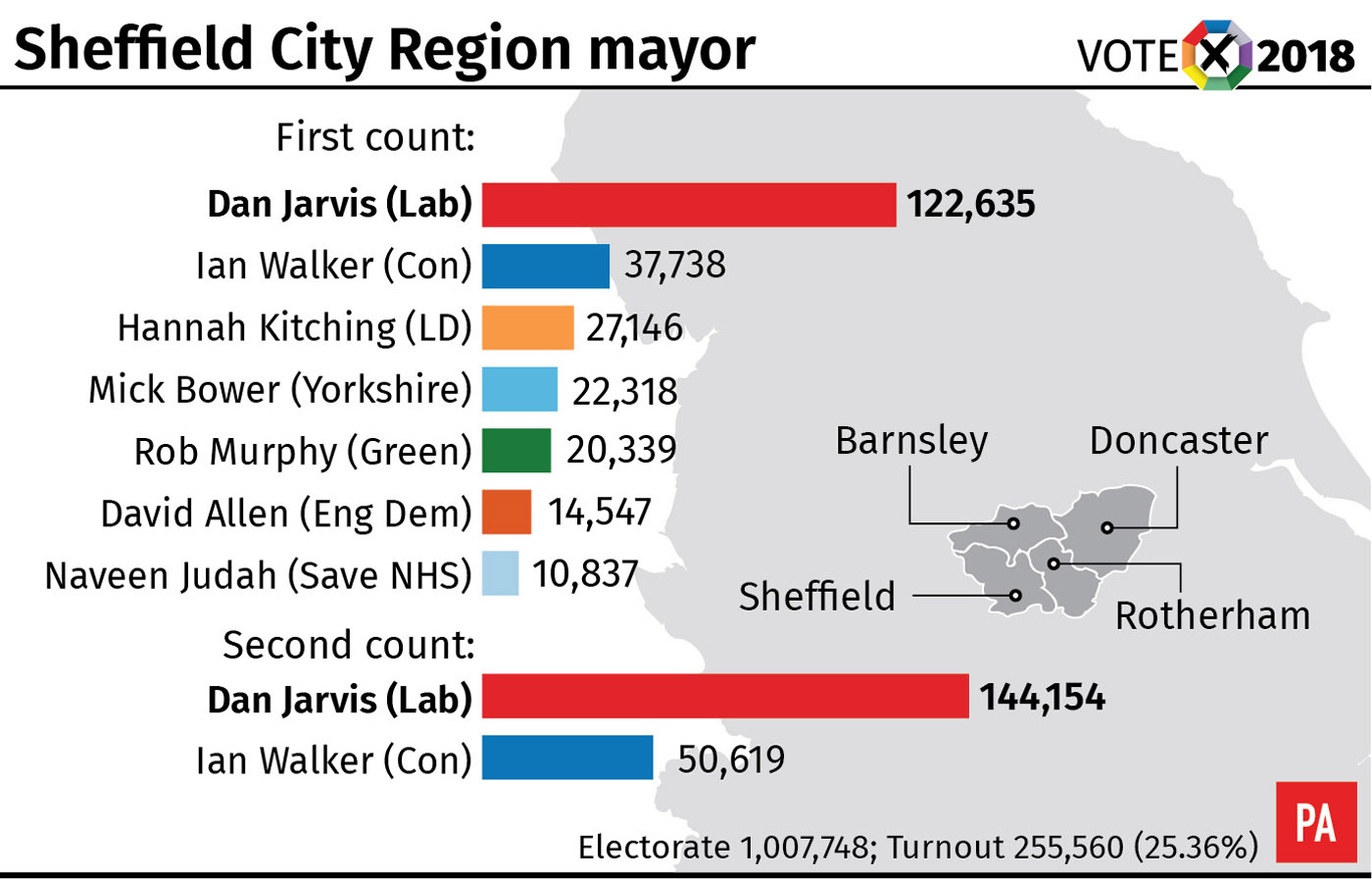 After he was elected in a two-round ballot, the Barnsley Central MP said: "I'm one of those people who has been absolutely committed to a wider Yorkshire deal really from the beginning of this process.
"What the 18 local authorities across Yorkshire and the Humber say is that that's something that could be put in place by 2020.
"There's quite a lot of work that would have to be done to make that happen and, of course, Government has got an incredibly important part in that debate.
"So there's a conversation to be had now with the new Secretary of State about what his response is going to be to the detailed bid document that he's received from the 18 local authorities.
"These are conversations that have to take place in the next few days but I look forward to getting on with that important job."
Mr Jarvis said his first priority was to talk to the leaders of Sheffield, Rotherham, Barnsley and Doncaster – who are deeply split among themselves – about how to proceed.
He took 48% of the vote in the first count and was elected mayor after the second count, which saw him comfortably defeat his Tory rival Ian Walker.
In his victory speech, he said: "I believe that the issue of devolution goes to the heart of two of the most important strategic issues that our country faces – how we respond to the causes of Brexit and how we prepare for a post-Brexit Britain.
"If we are to find the right answer to these questions we must be prepared to reform every aspect of our political system."
A South Yorkshire region devolution plan was agreed with the Government in 2015 but ran into a range of problems.
"The election took place despite the rest of the proposal falling apart and turnout was 25.8% – boosted by a parallel council poll in Sheffield.
Mr Jarvis echoed the late Labour MP Jo Cox's comment that people had "more in common" with each other than things which divided them as he called for Yorkshire to pull together.
After he was selected by Labour, the former Parachute Regiment officer saw off an attempt by the party to prevent him being both mayor and a constituency MP.
Asked to justify this choice after his election, he pointed to the overwhelming vote he received in his base in Barnsley and also compared the situation to MPs who are ministers or Commons committee chairs.