Animal inspectors have seized 27 puppies smuggled from Ireland at a Scottish port.
The Scottish SPCA recovered the animals early on Wednesday at Cairnryan in Dumfries and Galloway as part of Operation Delphin.
Various breeds were discovered locked in cages in large wooden containers in the random stop by ports police at Cairnryan.
It is estimated they would have been sold for at least £600 each.
An undercover inspector said: "Unfortunately, the puppy trade is big business in Scotland with thousands of dogs being brought into the country each year from Northern Ireland and the Republic of Ireland, in particular from large-scale puppy farms.
"They are then sold on at huge profit by the dealers."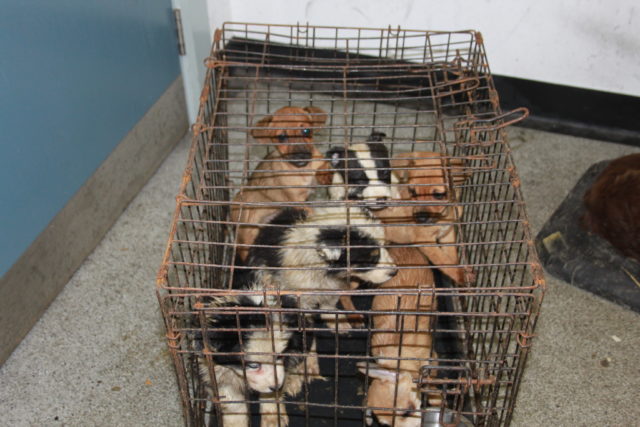 The operation involved Stena Line, Police Scotland, Trading Standards, HMRC and UK and Ireland animal welfare charities including USPCA, DSPCA, ISPCA and RSPCA.
Dumfries and Galloway Council gave powers to certain Scottish SPCA inspectors which allowed police and inspectors to enforce legislation at the port.
The undercover inspector added: "The illegal trade in puppies is still a major issue.
"The welfare of the breeding bitch and the puppies is compromised due to intensive breeding regimes and causes distress to the families who purchase these puppies.
"When trafficked pups reach their new owner via the dealers, they often develop diseases such as parvo virus and giardia.
"Often the young dogs die from these diseases which can be extremely distressing for the owners."
The charity has issued advice to anyone considering buying a puppy.
A spokeswoman said: "Always view the mother of any puppies that are for sale when the pups are still feeding from the mother, where possible it is best to view both parents.
"Never buy a puppy from a car park or allow for home delivery without visiting the breeder's premises.
"If you have purchased a puppy that shows any signs of illness or distress, take it to a vet immediately."