Police will effectively create a ring of steel around Windsor Castle as part of a massive security operation for the royal wedding.
The wedding on Saturday is one of the largest public events policed by Thames Valley and in the run-up to the big day officers have been patrolling Windsor, including armed officers dog handlers and even mounted police.
On Friday, police were seen manning the barricades outside the castle, and sniffer dogs were out as checks continued before Saturday's ceremony.
As part of Thames Valley Police's (TVP) operation to safeguard Prince Harry and Meghan Markle, their guests and spectators, airport-style security scanners and bag searches will be in operation in Windsor.
But as well as the visible security arrangements, officers will also be engaged in covert operations.
Apart from the obvious security risks, revellers in the town are being asked not to throw confetti during the big day as it could also pose a potential threat.
TVP tweeted: "Please do not throw confetti or any other items at any time during the day, particularly during the procession.
"It poses a potential security risk and it's a bit of a pain to clean up!
"We hope everyone enjoys the day."
With the US actress a big draw to both British and American fans, huge crowds are expected and the newlyweds' carriage ride route may be closed to latecomers if the predicted 100,000 revellers become a safety issue.
If this proves to be the case, TVP, in consultation with others like Network Rail and British Transport Police, could also order trains not to stop at Windsor's two stations.
Almost every TVP officer will be on duty on Saturday, working right across the force's area.
Harry and Ms Markle have invited 600 guests to attend their wedding and 200 family and friends will be at an evening reception hosted by the Prince of Wales at Frogmore House.
As part of the security arrangements, drones have been banned from flying over the Windsor Castle estate on Friday and Saturday, and aircraft are restricted from flying below 2,500ft.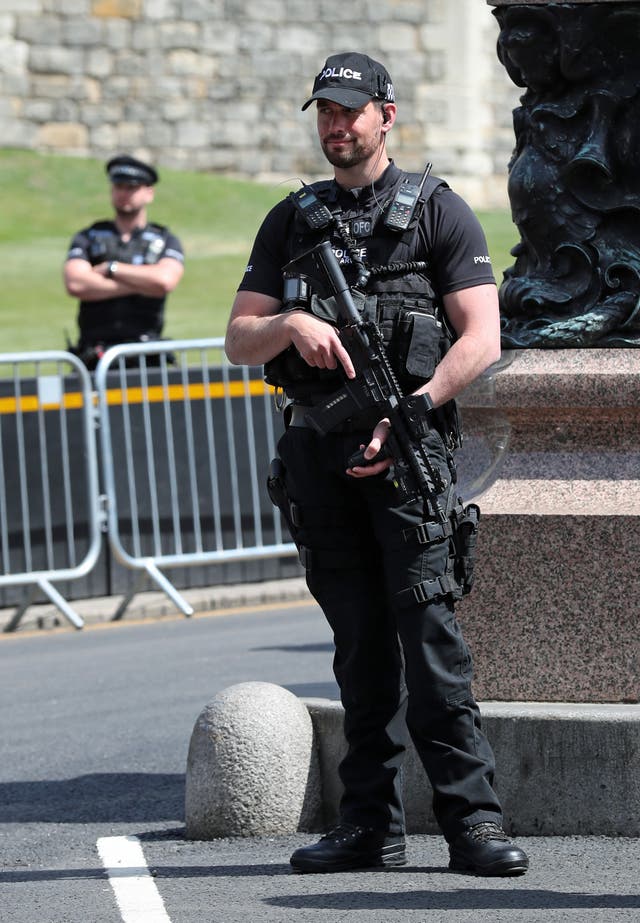 Nearly £3 million was spent on overtime costs alone, with hundreds of officers drafted in to help police the crowds watching the event in London in 2011.
But the cost of Harry and Ms Markle's wedding cannot yet be confirmed.
A spokeswoman for TVP said: "In terms of costs, a number of organisations will bear a cost, including Thames Valley Police for the policing operation and the RBWM (Royal Borough of Windsor and Maidenhead) for the infrastructure.
"At this stage we are not in a position to confirm the costs of royal wedding.
"If at a later stage there is an opportunity to recover costs, this will of course be explored."