Vicky Compson's Windsor wedding was a little different to what she had been expecting, with thousands of well-wishers, media from around the world and a police escort.
Having booked to get married to Aron Hallam on Friday May 18 nine months ago, the couple were expecting a quiet ceremony with about 30 guests.
But Prince Harry and Meghan Markle changed all that.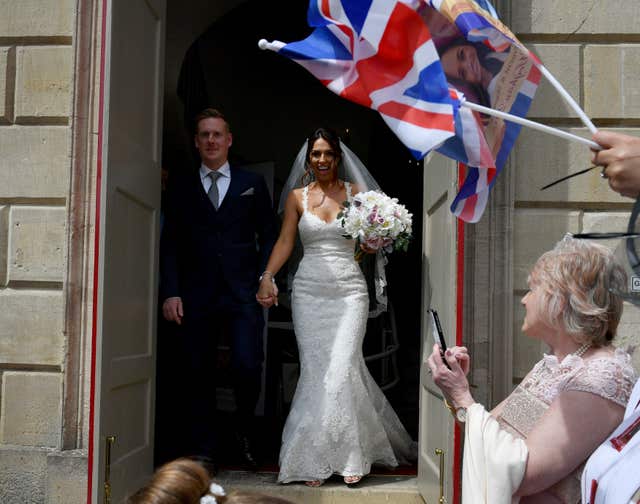 Hundreds of strangers surged forward, smartphones in hand, seemingly treating this special day as a warm-up for tomorrow.
Before the ceremony, Laura Davis, a friend of the bride, who lives just outside Windsor, said she has never seen the town like this.
"It's crazy. Absolutely mad," she said, as armed police officers walked past, and an Elton John impersonator sang into a microphone for a Canadian radio station.
"But Vicky is buzzing. She's such an outgoing person anyway so I'm sure she's loving it."
Confetti was thrown and cameras from television networks in France, Australia and the UK were all rolling.
Mr Hallam, beaming from ear to ear, said: "It's been absolutely lovely. If I'd have known I was going to be on the news I might have been a bit more reserved, but I just want to put it on the record. I booked it first."
His new wife was quick to say the same.
"This was booked in August. I was well in there before Meghan," she said.
"They shut the road off, I got a police escort, everyone cheered, it was pretty unreal really. It's been fun."
The couple, from Datchet, in Berkshire have been together 15 years and engaged for three years.
They will honeymoon in Malta, where they will finally find some peace and quiet.