Crowds crammed the streets of Windsor to celebrate the royal wedding.
The mid-morning sun beat down on thousands of wellwishers, including some who had slept on the street  overnight to bag the best spots, amid a sea of red, white and blue flags, T-shirts and bunting.
Outside The Windsor Castle pub, which is along the procession route, there were women in feather boas and veils as though they were on a hen night and many others who were sporting paper crowns or fancy fascinators.
A random "three cheers for the royal couple" rang out as assistant pub manager Shauna Carabini, 22, described the  atmosphere  as "quite infectious".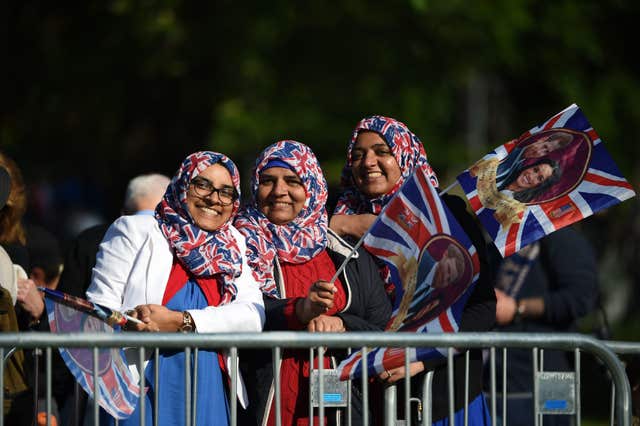 "It is a very British kind of celebration – none of us know either of the people getting married but we are all invited to celebrate, smile and have fun.
"The weather helps and I have never seen Windsor looking so lovely and with so many police around I have never felt so safe."
Without giving figures , she added it had been a "record week" for the pub.
Security was obvious, with scanners on entry, large sections of the centre cordoned off and uniformed officers everywhere.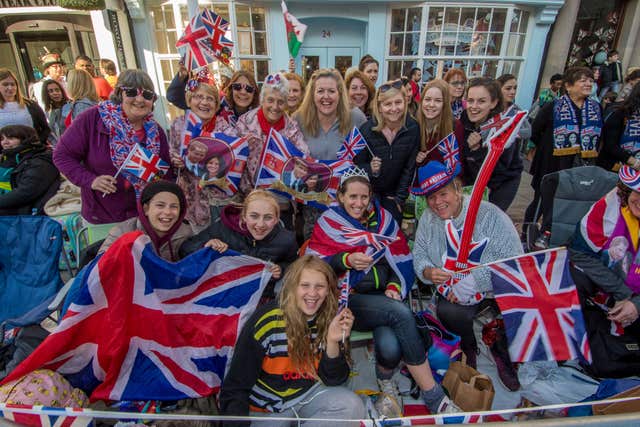 Ms Tyler said: "I had to come because it is such a special day," and that Meghan Markle was "already well on her way" to being  a good member of the royal family.
Mr Jones said: "I will be having tea and crumpets to celebrate later."
Debbie Hoover, 50, with her 21-year-old twin daughters Camille and Ashlyn, of  Amarillo, Texas, made  the wedding the main reason for their holiday.
They slept outside overnight.
Mrs Hoover, who was sporting an eye-catching fascinator in the shape of a swan "because the Queen owns swans", said: "Every girl wants to become a princess but in America you can't – now it seems that you can.
"They make such a sweet couple.
"It is just so cool to actually be here."
Ashlyn Hoover added: "Meghan is just following her heart with what she thinks is right. It is a true love story."
Tony Appleton, who bills himself as a town crier complete with his ceremonial outfit, said: "I am so excited  for Harry.
"I think at last he has found someone to tame him down. I am happy he has found this lovely American beauty."