A filmmaker ran a 67-mile heart shape around Manchester to commemorate the victims of the arena bombing.
Nathan Rae ran for 18 hours straight on the anniversary of the attack and raised more than £3,300 for North West Air Ambulance.
The 37-year-old, from Chorlton, said he chose the shape of a heart, with the initials MRC spelled out inside, for his route "as a celebration of the city's response to the bombing".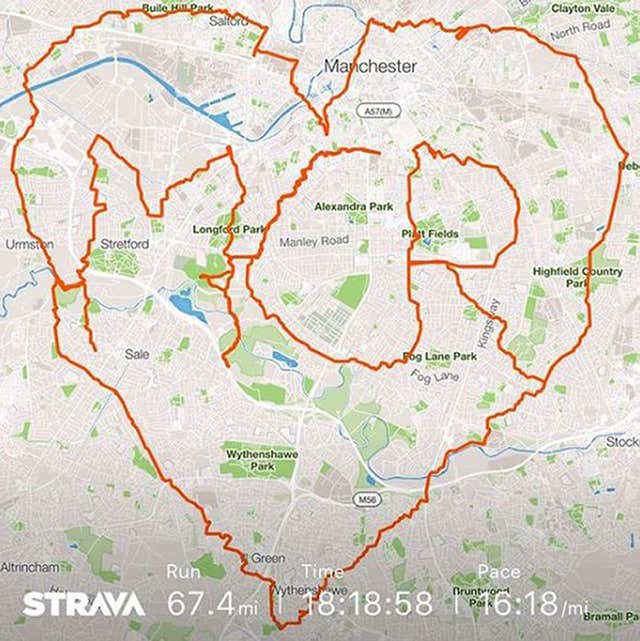 "I picked the heart shape because there was a piece of artwork in Manchester with 22 bees and a heart around it," he said.
"I couldn't draw a bee on the map so I went for the heart."
He described his route as "GPS art" with the pattern showing up on apps including Strava and Garmin maps.
Mr Rae, who has been running ultra marathons for several years, set off just before 8am on Tuesday and ended at Manchester Arena just before midnight.
His route passed landmarks involved in the aftermath of the bombing, including Royal Manchester Children's Hospital and several fire stations.
He was accompanied part of the way by fellow members of Chorlton Runners.
Mr Rae added: "It was great, normally on an ultra marathon you run by yourself for a long stretch so having people run with me really, really helped.
"I would like to say a big thanks to everyone who came out and ran with me along the route, it was really great."
Twenty-two people were killed and 139 were wounded when a suicide bomb was detonated after an Ariana Grande concert on 22 May last year.