Thousands of innocent people may be unaware they can ask to have their photographs deleted from a vast database of mugshots, a Commons report warns.
MPs accused the Government of taking an "unacceptable" approach to providing a route for unconvicted individuals to request their facial images are removed from police systems.
The Science and Technology Committee questioned the legality of the decision to introduce a "deletion on application" scheme as opposed to an automatic process.
Hundreds of thousands of people were given the green light to ask forces to erase photographs under a Government review published last year.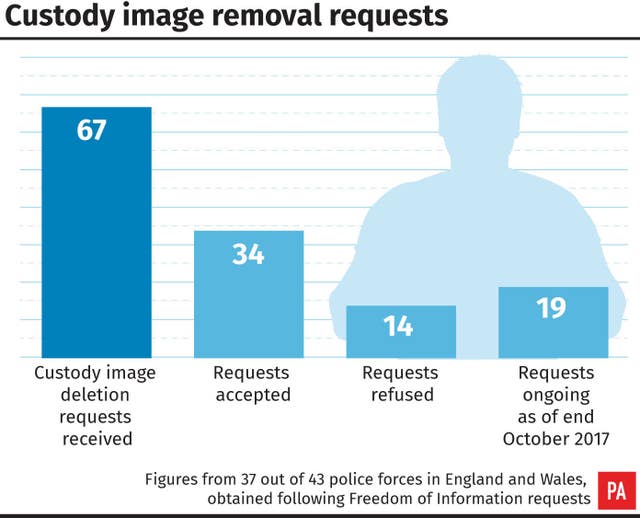 There are about 21 million images on the Police National Database (PND), 12.5 million of which have been enrolled in a gallery which can be searched using facial recognition software.
These totals include cases where multiple images of the same individual are held.
Controversy has centred on the retention of photographs of those who were released without charge or later cleared.
There is no precise figure for the number of images of innocent people held on the PND but it is believed to run to hundreds of thousands.
A Home Office review published in February 2017 concluded that unconvicted individuals should have the right to apply for the deletion of their custody image from all police systems.
Figures from 37 out of 43 forces in England and Wales, obtained following Freedom of Information requests, showed 67 requests for custody image removals were received from the date the review was published to the end of October.
In 12 areas no applications were registered at all and only one force received more than 10.
As of the end of October, 34 of the requests had been accepted and images deleted. Fourteen were refused, while 19 were ongoing.
Under the new regime, people who are not convicted of any offence can request deletion of their custody image – with a "general presumption" that it will be removed unless there is an "exceptional reason" for keeping it.
Forces should automatically review all pictures held after specified periods but the Home Office decided against imposing a "weeding out" exercise to identify those which should no longer be retained.
Campaigners and watchdogs have raised questions about the approach, which are echoed by the committee.
Its report, which cites the Press Association's findings, says: "The Government's approach is unacceptable because unconvicted individuals may not know that they can apply for their images to be deleted, and because those whose image has been taken should not have less protection than those whose DNA or fingerprints have been taken."
He said: "Large scale retention of the facial images of innocent people amounts to a significant infringement of people's liberty without any national framework in place and without a public debate about the case for it."
Custody images have been described as a "standard feature" of policing, used for a range of purposes including briefing officers so they can identify suspects and developing leads within investigations.
A Home Office spokeswoman said: "We expect the new police IT systems that we are putting in place will be able to automatically delete custody images by linking them to conviction status, as is the case with fingerprints and DNA.
"We understand the need to strike a balance between protecting an individual's privacy and giving the police the tools they need to keep us safe.
"The storing of custody images helps police solve crime but it must be done in a way that is legal, ethical and transparent."