Murder squad detectives have arrested three people over the murders of a mob fixer and an underworld 'Mr Big'.
Paul Massey, 55, gunned down outside his home in July 2015, was a well-known figure in his home city of Salford and had been involved in security firms operating in Manchester and beyond.
His murder was part of what is believed to be an ongoing feud between organised crime gangs in the area.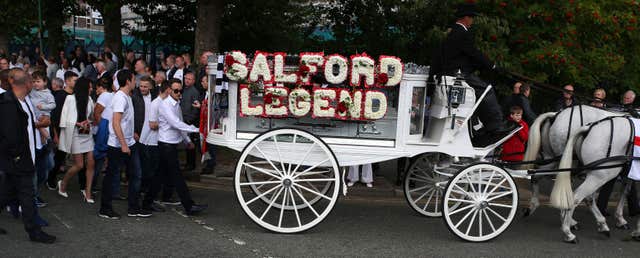 As part of joint operation between Greater Manchester Police (GMP) and Merseyside Police, dawn raids were executed at addresses in the Heywood, Rochdale and Salford areas of Greater Manchester as well as in Cheshire.
One man, aged 37, was arrested at Manchester Airport this morning on suspicion of the murder of Paul Massey and the murder of John Kinsella, GMP said.
A 39-year old woman was also arrested at the airport on suspicion of assisting an offender in relation to the John Kinsella murder.
48-year-old man was arrested in Salford on suspicion of conspiracy to murder in relation to the Paul Massey murder investigation.
All three remain in custody for questioning.
Wednesday's arrests are the first made in connection with each of the murders and follow extensive inquiries by detectives from both GMP and Merseyside Police.
The families of both men have been informed of the arrests.
In a statement Detective Chief Inspector Carl Jones, of GMP's Major Incident Team, said: "Today's arrests have come as a result of a joint operation between Greater Manchester Police and Merseyside Police.
"We currently have two people in custody arrested in connection with the murder of Paul Massey and they will be questioned by GMP detectives.
"These are the first arrests that have been made in connection with Paul's death and the investigation remains focused on establishing the truth and bringing answers to his family.
"Although the murders of Paul Massey and John Kinsella remain separate investigations by individual police forces, we will continue to liaise with colleagues from Merseyside Police as further enquiries are carried out."
Detective Chief Inspector Mark Baker, of Merseyside Police's Investigations team, said: "Detectives from Merseyside have been carrying out extensive inquiries since the murder of John Kinsella just three weeks ago and have established a number of positive leads.
"We have been working together with both GMP and Cheshire Police and as a result of our inquiries were able to carry out this joint operation today."
Massey, a father of five, died in a hail of bullets as he stepped out of a silver BMW car outside his home in the Clifton area of Salford almost two years ago.
He was blasted four times by an assassin wearing "military style" clothing for the apparent gangland hit.
His fearsome reputation grew during the drug-fuelled 90s rave scene in Manchester.
Massey had first been dubbed "Mr Big" by a local councillor in Salford following civil disturbances in the city in the 1990s and he was later jailed for 14 years for a savage knife attack outside a nightclub in Manchester city centre.
John Kinsella died after being shot while walking his dog with his partner on a footpath, near to the St Helens Linkway and the M62 motorway at 7am on Saturday, May 5.
The gunman, who was on a pedal bike, also fired the gun at the victim's partner as she ran away from the scene.
Kinsella had served time in jail for his part in a £41,000 robbery in Grantham, Lincolnshire in 2006.
He went on the run shortly before a jury found him guilty of stealing thousands of pounds worth of detergents, crisps and Easter eggs.
He was captured in Amsterdam in 2009 and began a 10-year jail term in Lincoln prison.
During his trial, the jury heard how Kinsella had stopped a gangster terrorising then Liverpool football star Steven Gerrard.
The court was told Kinsella was asked by Paul Gerrard, the footballer's father, to intervene after he said his son was being terrorised by a gangster known as the "Psycho".
In a letter that was read out in court Mr Gerrard Senior told of his family's gratitude after "threats from the Liverpool underworld" stopped.
It said: "Steven and I have total respect for John for what he did for us."