A man has been arrested after several people were injured when a car ploughed into pedestrians in Greater Manchester.
Police were called to Europa Way, in Trafford Park, at 9.50pm on Thursday to reports a car had collided with a number of people.
The car failed to stop at the scene, but a blue BMW 330D believed to have been involved in the collision was found in the Salford area later that night.
In the early hours of Friday, police detained a 21-year-old man on suspicion of causing serious injury by dangerous driving and failing to stop after a collision. He remains in police custody.
Following the incident, witnesses described horrified onlookers rushing to help the injured.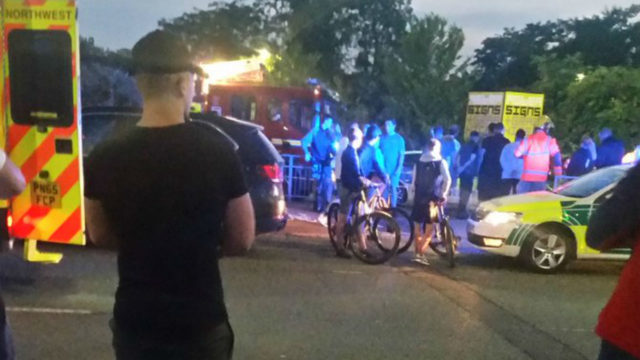 He said: "The car then drove through them and carried on without stopping.
"At this point I heard the dog yelping and running round, loads of people ran over to attend to the injured.
"A huge crowd gathered round, ringing ambulances and police."
Four ambulances and a hazardous area response team attended the scene, along with three senior clinicians.
There is no evidence to suggest the incident is terrorism-related at this stage, Greater Manchester Police said.
The force is appealing for any witnesses to come forward.
Chief Superintendent Jo Rogerson said: "We now have a man in custody and we will be questioning him under caution as part of our investigation.
"This is an extremely serious incident that we are dealing with and I cannot stress the importance of people contacting us if they know something.
"Any information, no matter how insignificant people think it may be, could be the piece that we need so please, call us."
Anyone with information should contact police on 101 quoting reference number 2409 of 31/05/18, or call Crimestoppers anonymously on 0800 555 111.
A police cordon was still in place on Friday morning, where a number of trainers could be seen lying in the road and on the pavement, with purple medical gloves and plastic wrapping from what appeared to be medical equipment left strewn around.
One man said the incident happened while "boy racers" were taking part in a car meet.
Parts of Trafford Park, a huge industrial estate with stretches of long straight roads and roundabouts, much of it deserted at night, has become known locally as a place used as a race track for car enthusiasts, at times attracting dozens of spectators.
At a press conference Chief Superintendent Wayne Millar appealed for information and said around 60 vehicles were at the car meet at the time.
He added: "First and foremost our thoughts are with the victims and families at this very difficult time.
"On arrival of emergency services, they were faced with a horrific scene and such was the number of casualties it was declared a major incident.
"We've been working very closely with Trafford Council to deal with this, since February 2017 there's been a Public Space Protection Order in force for that area and during that time we've made a number of arrests, seized a number of vehicles, we've engaged with those that are participating in these car meets.
"We've also sent a number of warning letters and also reported a number of people for several offences."