The boss of department store chain House of Fraser has warned that plans to close 31 outlets and axe 6,000 jobs represent the "last viable" option to save the retailer, with the group at risk of collapse if the proposal is rejected.
The closures, announced on Thursday, account for over half of the chain's 59 store estate across the UK and Ireland and are part of a radical rescue plan.
They are being undertaken through a company voluntary arrangement (CVA) – a controversial insolvency procedure in vogue among struggling retailers – and must be voted through by creditors.
"The CVA is an opportunity for all creditors to take a view on whether they believe in the viability [of House of Fraser] as a restructured business."
If the CVA is approved by landlords, it will affect up to 2,000 House of Fraser staff and a further 4,000 across brands and concessions.
If it is rejected and the group fails to secure additional funding, then House of Fraser could be forced to file for administration.
House of Fraser said the shops earmarked for closure, including its Oxford Street store, would remain open until early 2019.
The group also plans to relocate its Baker Street head office and the Granite House office in Glasgow to help slash costs and "secure House of Fraser's future".
House of Fraser said it has already informed staff set to be impacted by the plans, and was committed to "working with all those affected openly and with sensitivity over the months ahead".
As well as the store closures, House of Fraser's restructuring deal will also see the rents slashed for a further 10 stores that will remain open.
But landlords, who must vote through the plan, have already expressed serious concerns about the proposals and met on Tuesday to discuss how to respond to House of Fraser.
At least 75% of creditor approval is needed, with the vote set to take place on June 22.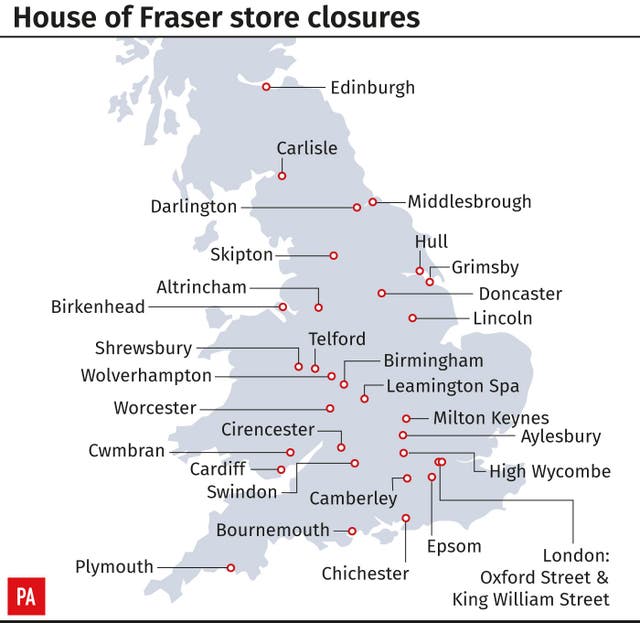 House of Fraser stressed that the group will continue to trade "as normal" online and through stores ahead of the CVA vote and throughout the proposal.
Frank Slevin, chairman of House of Fraser, said: "Our legacy store estate has created an unsustainable cost base, which without restructuring, presents an existential threat to the business.
"So whilst closing stores is a very difficult decision, especially given the length of relationship House of Fraser has with all its locations, there should be no doubt that it is absolutely necessary if we are to continue to trade and be competitive."
Hamleys owner C.banner is being lined up to buy a 51% stake in House of Fraser and invest £70 million into what remains of the business.
But its cash injection is pledged only on the condition the retailer can agree the CVA restructuring.
Will Wright, a restructuring partner at KPMG – which is handling the CVA, warned that House of Fraser would be at risk of administration if the CVA does no go ahead.
He said: "The business has been impacted by the mounting pressures facing the UK high street, with the declining profitability of certain stores exacerbated by costly legacy leases which were originally negotiated many years ago.
"With trading conditions unlikely to materially improve in the short term, the future of House of Fraser is at significant risk unless steps to restructure the business both financially and operationally are taken."
A raft of CVAs have been struck in recent months as retailers struggle amid surging costs, rising business rates, competition from online rivals and a slowdown in consumer spending.
Other retailers undertaking CVAs in a bid to keep trading include New Look, Mothercare and Carpetright.
Restaurant businesses have also been seeking to cut their costs with store closure programmes, with Carluccio's, Byron and Prezzo all pushing through CVAs this year.