Three anti-tree felling campaigners have avoided jail sentences after they were found in contempt of court for breaching an injunction stopping them going inside work safety zones during controversial protests in Sheffield.
Creative writing lecturer Simon Crump, songwriting magician Benoit Compin and retired primary school teacher Fran Grace were found in contempt by a judge at the High Court in Sheffield on Thursday following a three-day hearing of an action brought by Sheffield City Council.
The judge, Mr Justice Males, gave both Crump and Compin a two-month prison sentence, suspended for one year.
He decided no further punishment was appropriate for grandmother Grace.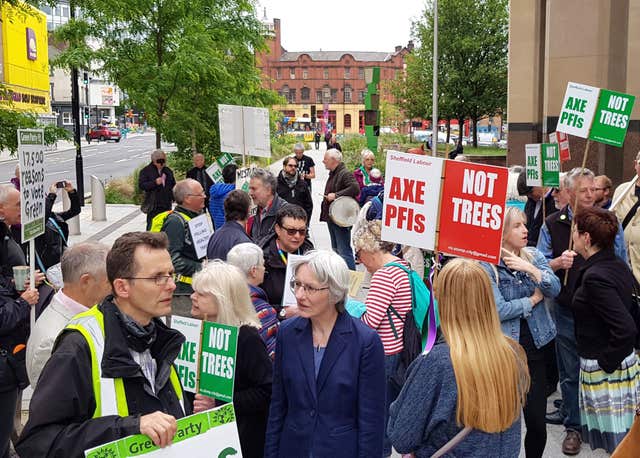 He said he would reserve judgment on a fourth defendant – Paul Brooke – as he said there were further legal issues to consider.
The judge said he would also rule on costs at a later date.
The controversial tree-felling programme in Sheffield is currently paused following a fresh series of confrontations earlier this year which saw dozens of police deployed and protesters arrested.
The dispute surrounds a 25-year, £2.2 billion private finance initiative agreement the council signed with contractor Amey.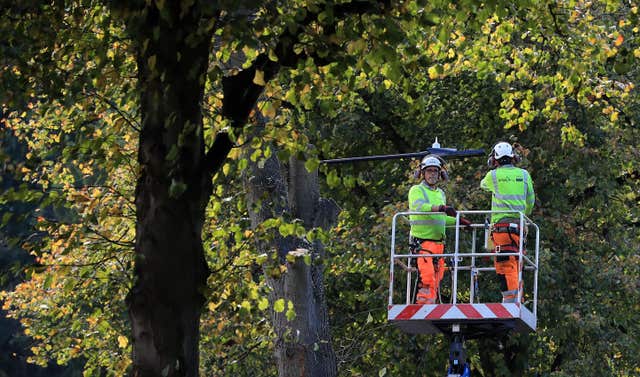 The council says only a small proportion of the city's 36,000 street trees are being removed because they are diseased or dangerous, but protesters say many of the trees are being felled simply because their roots are getting in the way of resurfacing methods.
Earlier this year, the council released previously redacted details of the contract at the heart of the dispute which campaigners said showed that 17,500 trees would be earmarked for destruction.
Council leaders said that figure was only a contingency, and not a target, with the likely end total being a maximum of 10,000.
The hearing on Thursday was packed with supporters of the four defendants.
Last year, another protester, Calvin Payne, was given a suspended sentence and ordered to pay £16,000 in costs after he was found to be in breach of the order.
The application related to a series of incidents at protests in Sheffield between December 2017 and March this year, the court heard.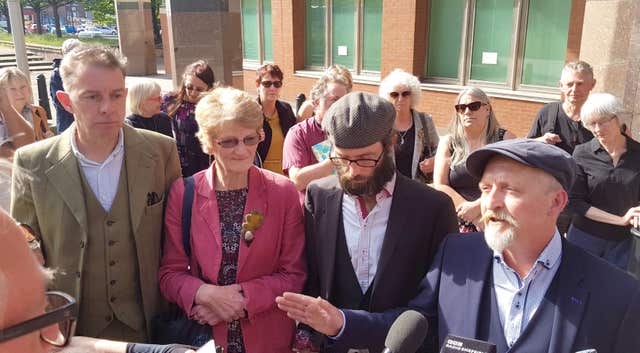 The judge said the defendants' argument that the contractors had deliberately entrapped them within the fencing was "nonsense" and "demonstrates the paranoia and mistrust which now exist on the part of some protesters, including Dr Crump."
The court heard that Compin admitted that he breached the order on January 10 on the same road when he entered a safety zone in order to recite a poem for the entertainment of those who had gathered.
On March 5, the judge said, Compin entered a safety zone on Abbeydale Park Rise to help a woman who was being removed by security staff. He stayed and said "I'm going to break the injunction again" before climbing a tree.
The judge told the court: "It is critical to the rule of law that the orders of the court should be complied with. If we were to reach a position where orders made by the court could be ignored with impunity by those who disagree with them, we would have lost something very precious."
He stressed that he has never expressed a view "one way or the other, as to the merits of the tree felling programme or the objections to it".
Brooke said outside court: "Our elected politicians are not in charge of this city which means we, as citizens, have lost control and are no longer in charge of this city."
He said: "History will change a future judgment that means that these people were heroes of Sheffield and they were good citizens who stood up for what rightfully is ours. Our mature urban forest needs protecting."
He said they will now abide by the injunction "but that does not mean the protest ends here".