An endurance walking event has raised £250,000 to help soldiers, veterans and their families.
The annual Cateran Yomp saw more than 1,000 soldiers and civilians walk side by side on a 24-hour trek across the historic Cateran Trail in Perthshire.
The event finished in the early hours of Sunday and raised cash for ABF The Soldiers' Charity.
The Cateran Yomp asks participants to walk 22, 36 or 54 miles in less than 24 hours.
They faced mixed weather conditions from sunshine to rainstorms on the 54-mile route around the foothills of the Cairngorms.
The oldest participant was 84-year-old Major Andrew Wedderburn a former CO with The Black Watch who walked with his sons Patrick and Dominic and hiked 22 miles in under 11 hours.
Organisers thanked hikers for their combined efforts in raising £250,000 which will go directly to support soldiers, veterans and their families through ABF The Soldier's Charity.
Veteran Yomper and climber Les Binns was recognised for his bravery in 2016 after he abandoned his Mount Everest climb 500 metres from the summit to save a fellow mountaineer.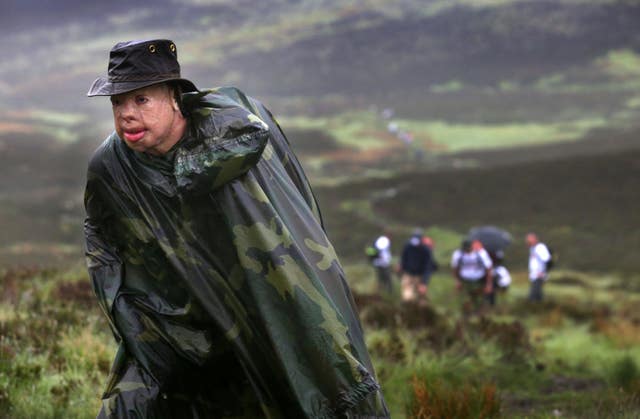 "They gave me the funds I needed to re-train as an electrical engineer. I'll be forever grateful to Soldiers' Charity for all the help and support they've given me.
"I am proof of the difference this much needed money can make to soldiers and their families and this weekend has been an ideal opportunity for me to say thank you."
First place at the 2018 Cateran Yomp was awarded to Danish team, husband and wife Laura and Tommy Hulgaard from Bornholm, Denmark. Tommy is in the Danish Army and Laura a teacher. They completed the full 54 miles in 11 hours and 22 minutes.
Major General Martin Rutledge, chief executive of ABF The Soldiers' Charity, said: "Whether young or not so young, a veteran or civilian, some fitter and faster than others, we have all come together at the Cateran Yomp with one purpose – to help change lives.
"This support is vital and we are so grateful for what has been achieved this weekend."