An Islamic State fanatic plotted to kill the Prime Minister in a suicide attack, saying his main aim was to "take her head off", a court has heard.
Naa'imur Zakariyah Rahman, 20, allegedly wanted to make "big news" by storming 10 Downing Street with explosives and a knife as Theresa May talked to the Press outside.
He was encouraged by an uncle who joined IS in Syria and was killed in a drone strike, the Old Bailey heard.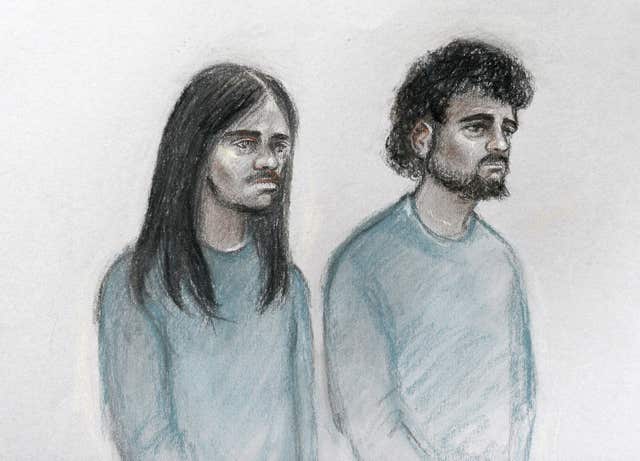 But he had already revealed his plans to MI5 agents, posing as IS operatives in Telegram chat, jurors heard.
And the person who he was put in contact with to provide the bomb was really an undercover police officer.
Prosecutor Mark Heywood QC said Rahman was fully prepared to die in an assault on Downing Street, having also considered military and MI5 as targets.
He said: "Before his arrest prevented it, he was, he believed, just days away from his objective, which was no less than a suicide attack, by blade and explosion, on Downing Street and, if he could, upon the Prime Minister Theresa May herself."
The lawyer read out Telegram chat in which Rahman was allegedly snared by an MI5 agent posing as a fake Amir.
In September last year, Rahman said: "Can you put me in a sleeper cell ASAP?
"I want to do a suicide bomb on Parliament. I want to attempt to kill Theresa May."
He went on: "My objective is to take out my target. Nothing less than the death of the leaders of Parliament."
The court heard Rahman praised the Manchester arena bomber, saying he "did well".
On October 23 last year, Rahman met a contact known as Abu Waleed in a Shepherd's Bush shopping centre.
He told the agent that he planned to use a suicide belt, drone, improvised explosive device and poison, referred to as P or "curry mix".
On November 1, Abu Waleed introduced Rahman to another member of the network called Shaq, an undercover police officer, to help him get a blade and suicide vest.
Rahman allegedly told him: "If you can put a belt on me, I'd actually want to do that."
Jurors were shown covert video footage of a meeting in Shaq's car in a PC World car park in Brixton on November 6 last year.
In it, Rahman said he would get past the gate, make a "10-second sprint" for the door of Number 10, with his main objective to "take her head off".
At a further meeting on November 15 last year, Rahman allegedly said: "They're gonna shit it, especially her who is inside."
Rahman carried out reconnaissance around Whitehall, walking past the entrance to Downing Street, and penned an oath of allegiance, the court heard.
He also bought a rucksack in Argos which he gave to Shaq to be fitted with explosives, it is claimed.
On November 28 last year, Shaq handed him replica explosives, saying it was a powerful device similar to the one used by the Manchester suicide bomber.
Asked if he was ready, Rahman allegedly said: "Yeah. Do you know? Now I've seen everything it feels good."
Rahman was stopped by police as he was walking away carrying a hold-all containing his rucksack and jacket.
He allegedly told officers: "I'm glad it's over. I'm glad I'm arrested."
The defendant is also accused of helping his friend Mohammad Aqib Imran, 22, join IS in Syria by recording a sponsorship video.
The pair discussed their fear of "spies" and not being able to trust anyone, the court heard.
Imran allegedly set about assembling money and acquiring a fake passport for his trip from another MI5 role-player via Telegram.
Rahman, from Finchley, north London, has denied two counts of preparing terrorist acts.
Imran, of Sparkbrook, Birmingham, has pleaded not guilty to preparing terrorist acts and possessing a terrorist document on his Kindle entitled How To Survive In The West – A Mujahid's Guide 2015.