Boris Johnson will miss a crucial Commons decision on Heathrow expansion, meaning he will avoid having to choose between his Cabinet job and his opposition to the third runway.
The Foreign Secretary will be out of the country when MPs vote on Monday, sparing Theresa May a potential headache over the future of her most high-profile minister.
The Prime Minister has already suffered one resignation over the decision to force Tory MPs to back the plan, with Greg Hands quitting as international trade minister to oppose the airport expansion.
Mr Hands said he was standing down in order to honour a pledge to his west London constituents to vote against the plan.
His decision immediately turned the spotlight on to Mr Johnson, who has been a long-standing and vocal opponent of a third runway.
A Government source said Mr Johnson will be "out of the country" on Monday but refused to reveal where "due to security reasons".
The Commons vote coincides with a meeting of EU foreign ministers in Luxembourg, but Sir Alan Duncan is set to be the UK's representative there.
Shadow transport secretary Andy McDonald said it would be "weak" if the Foreign Secretary chose to be out of the country so as to retain his job.
"Greg Hands's resignation piles the pressure on Boris Johnson, who promised his constituents he would 'lie down in front of the bulldozers' to stop a third runway," he said.
Liberal Democrat leader Sir Vince Cable said: "Heathrow expansion is expensive, will damage the environment and will end up hurting rather than helping regional economies.
"I hope that other ministers, such as Boris Johnson,  who have previously taken a staunch anti-Heathrow expansion stance will now follow the Liberal Democrats and vote against the third runway."
Mr Hands announced his decision to stand down in a series of Twitter postings.
He said he had written to Mrs May explaining that he intended to honour a pledge to his Chelsea and Fulham constituents at last year's general election to vote against a third runway.
"As the Government will be whipping the vote on Monday, this means I am resigning from the Government," he wrote on Twitter.
"It has been an honour to serve the Prime Minister (and her predecessor) for the last 7 years and I wish the PM & the Government every continuing success."
A No 10 spokeswoman said: "Greg Hands has served the Government with great ability and distinction over several years. The PM thanks him for all of his work."
Following the announcement earlier this month that the Government intended to press ahead with a third runway, Downing Street indicated ministers with long-standing objections would be able to voice their opposition at a "local level" but would not be permitted to speak against it in the Commons.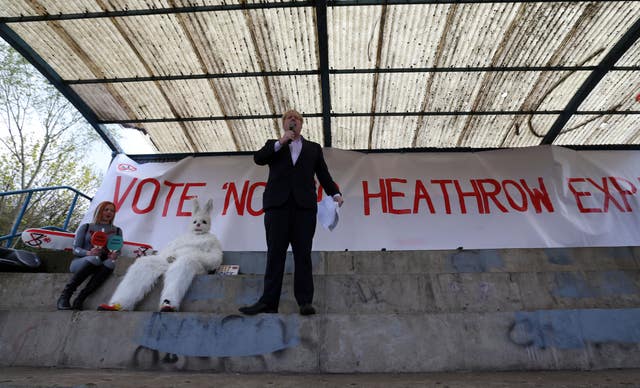 Aviation minister Baroness Sugg said: "A third runway at Heathrow would bring benefits of up to £74 billion to passengers and the wider economy, creating tens of thousands of local jobs in the process.
"It is easy to take these benefits for granted but our latest illustration, showing expansion would create enough jobs to fill well over 600 passenger jets, spells out just what MPs will be voting for.
"This massive project will bring fantastic opportunities for UK businesses, workers and apprentices and we cannot afford to wait any longer to push ahead with it."
The Government also signalled it would make sure the extra capacity helped protect domestic routes.
Public service obligations would protect routes if required, which would also exempt them from air passenger duty.
Lady Sugg said: "About 15% of the new capacity will be used for flights to destinations within the UK or crown dependencies."