The Government has triggered the next step towards Heathrow expansion in the wake of its victory in a Commons vote on the controversial plans.
Transport Secretary Chris Grayling has formally designated the Airports National Policy Statement (NPS), paving the way for the airport to submit a formal planning application.
This means a group of councils and campaigners have six weeks to submit a legal challenge to block the project.
A judicial review against the decision is being launched by four London local authorities affected by the expansion – Wandsworth, Richmond, Hillingdon and Hammersmith and Fulham – in partnership with Greenpeace and mayor Sadiq Khan.
Greenpeace UK executive director John Sauven said: "If ministers don't want to uphold the laws protecting us from toxic fumes and climate change, we're going to ask a court to do that."
Support from Labour MPs helped push through the proposals to expand Europe's busiest airport with an overwhelming majority of 296.
Mr Grayling said: "This marks a critical step towards ensuring future generations have the international connections we need, as well as strengthening the links between all parts of the UK and our global hub.
"I have always been clear that this issue goes beyond party politics and this result demonstrates the clear desire to get on with delivering this vital scheme.
"There is still much to be done, including defending this decision against potential legal challenges, but we are absolutely committed to working closely with local communities and ensuring Heathrow stick to their promises on addressing the local and environmental impacts of expansion."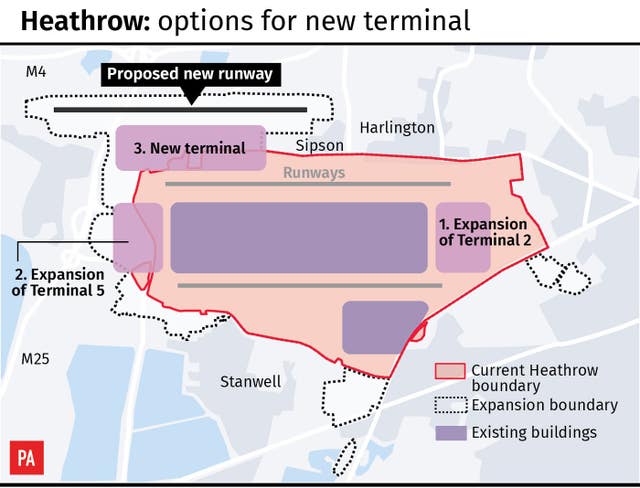 Former Northern Ireland secretary Theresa Villiers was one of eight Conservative MPs to rebel against the Government, as well as Greg Hands, who quit as a minister ahead of the vote so he could oppose the plans.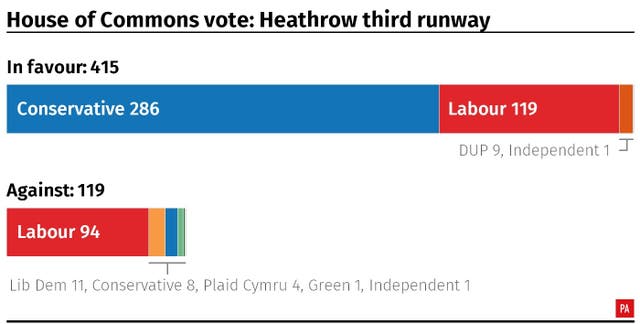 Boris Johnson, a long-time opponent of expansion, missed the vote as he was in Afghanistan.
He was mocked by MPs as he faced them for the first time since missing the crunch vote at Foreign Office questions on Tuesday.
Labour's Paul Sweeney, MP for Glasgow North East, joked: "The Foreign Secretary's looking rather sprightly this morning after his overnight flight, I hope the jet lag wasn't too severe."
Shadow foreign secretary Emily Thornberry also ribbed Mr Johnson over his absence, saying: "May I first sympathise with the Foreign Secretary that due to his emergency duties abroad he was unable to join last night's fight against Heathrow expansion.
"Four years ago he was asked the biggest lesson that he had learned from his supposed hero Winston Churchill and his answer was, I quote, 'never give in, never give in, never give in'.
"For some reason Churchill didn't add 'unless you can catch a plane to Kabul'."
The comments drew laughs and jeers from Labour and SNP MPs but Mr Johnson, beyond a wry smile, did not respond to the comments directly.
Following Tuesday's designation of the NPS, Heathrow will submit detailed planning to the Planning Inspectorate.
This will involve the airport conducting a further consultation with affected communities on the finer details of the scheme and the associated compensation packages and mitigation measures.
The Department for Transport said Heathrow will keep Mr Grayling updated with its progress over how it will meet commitments to the environment, communities, domestic connectivity and building a new runway in a timely and cost effective manner.
Construction could begin in 2021, and the third runway could be operational by 2026.