All residents were safely evacuated from a high-rise building where a flat caught fire, a housing association has said.
Eight fire engines and 58 firefighters and officers were called to the blaze in Wellington Way, Mile End, at 12.28pm on Friday.
Half of a 12th floor flat was alight, leaving four stories of the outside of the building blackened and scorched, but the blaze was under control by 13.51pm, the London Fire Brigade said.
Control officers took more than 90 calls relating to the blaze in Grafton House, and about 40 people left the building before firefighters arrived.
East End Homes, the housing association responsible for the block, said there were no injuries and all residents had been safely evacuated.
"Everybody is safe. Some residents have gone to a nearby community centre where they are getting support and refreshments," a spokeswoman said.
She was unable to confirm whether anyone would need rehousing as a result of the fire. Tower Hamlets Council said it would offer support.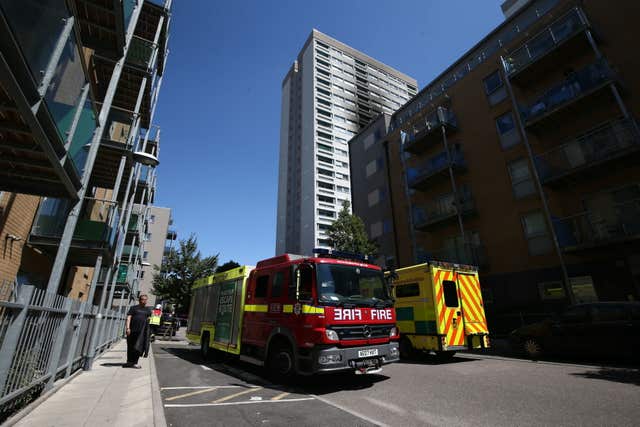 Despite the operation being deemed a success, tower block residents spoke of their fears just a year after the Grenfell Tower atrocity in west London, which killed 72.
Jamila Noor, who lives in Berkeley House, the tower next door to the Mile End fire, said she did not feel safe in a tower.
"No, I don't, when we see one fire we just get shocked, because we think that our house might go up as well," she said.
The cause of the fire is not yet known, and is being investigated.
Police cordoned off part of Wellington Way and urged residents to go to the nearby Merchant Street community centre for advice.
Meanwhile, East Sussex Fire and Rescue Service was attending a serious fire in Playden near Rye.
Around 70 people were evacuated after two homes were "badly affected".
The scale of the evacuations, which also included 11 birds of prey, was down to thick smoke and the presence of cooling cylinders containing compressed air.
Six fire engines were at the scene and people were being asked to avoid the area and stay away from the smoke.
One person was treated for smoke inhalation and the evacuated residents were taken to a local school.