Scots have been flocking to beaches and parks as Scotland basked in its hottest June day in more than two decades.
Temperatures soared to 31.3C (88.3F) in Aviemore in the Highlands on Wednesday afternoon, making it the hottest day since June 1995 when the mercury reached 31.5C (88.7F) in Renfrewshire.
It was the hottest day of the year so far, breaking the previous 2018 record for Scotland of 27.5C (81.5F) – set by Achnagart in the Highlands in May.
With hot weather expected to continue on Thursday, forecasters said temperatures might even go on to break the June record of 32.2C (89.9F) in Ochertyre in Perth and Kinross in 1893.
The mercury reached 30.1C (86.2F) at Aboyne in Aberdeenshire however in general the western side of the country was hottest on Wednesday with temperatures of 29.2C (84.6F) in Glasgow and 28.6C (83.5F) in Tyndrum.
Met Office forecaster Simon Partridge said: "While western Scotland has been in the mid to high 20s, the eastern side has been high teens to low 20s because of the breeze coming off the sea.
"There is a chance we could see record-breaking temperatures tomorrow but after that temperatures will ease off so tomorrow is the best bet for any record-breaking temperatures.
"After tomorrow temperatures will come down a bit though will still be mid-20s."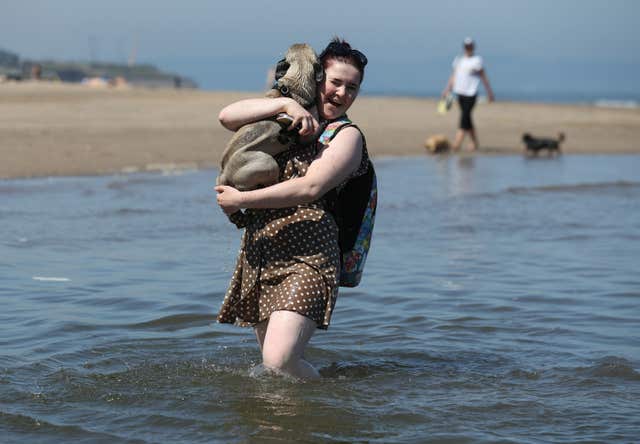 Officers in north-east Fife smashed a window to rescue a dog from a "boiling" hot car.
They tweeted: "We've just been forced to smash a car window to free a dog from a hot car. Officers in the car state it was 'boiling'. The dog has been given water & has been taken to the vets. We will be taking further action."
Police said the owner has been traced and charged with allegedly causing an animal unnecessary suffering and a report will be submitted to the Procurator Fiscal.
The dog has been checked over by a vet and is said to be fine.
Police are also warning people to be careful around water, particularly quarries, as the fine weather continues.
They issued a warning on Twitter, saying: "Some #quarry lakes may look inviting on a hot summer's day like today, but there are a number of hidden dangers! Deep water, submerged abandoned machinery & car wrecks, underwater recesses, hidden currents, dead animals, pollution.
"More dangers of quarry swimming are sheer faces, falling rocks, quick sand, and believe it or not hypothermia – despite the weather, water deeper than a few inches will be cold enough to cause cold shock!"