Fire crews are returning for a seventh day as a "rapidly developing, aggressive fire" ravages moorland across Lancashire.
Two large-scale moorland fires merged on Saturday due to increasing wind speed and a major incident was declared as crews tackled the blaze.
Greater Manchester Police said fires on Winter Hill and Scout Road near Bolton have merged, with pedestrians and motorists urged to stay away from the scene.
Greater Manchester Fire and Rescue Service (GMFRS) said on Saturday it had 28 fire engines tackling the moorland fires. There were approximately 120 personnel on the moors, split between seven areas of wildfire in Tameside and Winter Hill, Bolton.
GMFRS returned to tackling the moorland fires in Tameside while colleagues face another tough day doing the same at Winter Hill.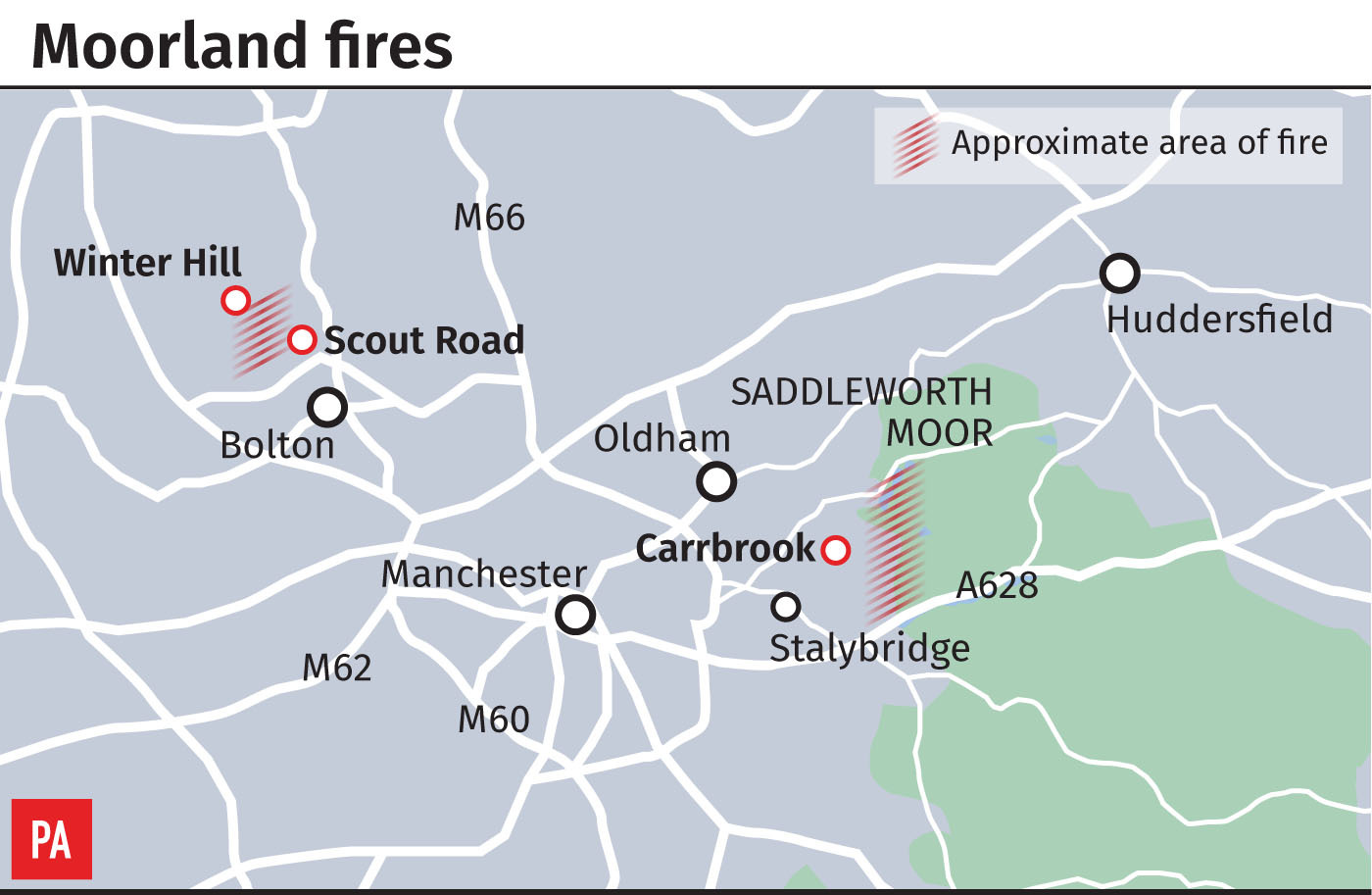 The first moorland fire – on Saddleworth Moor – started on Sunday amid Britain's heatwave and has devastated surrounding land around Carrbrook.
Assistant chief fire officer Dave Keelan said: "This is an exceptionally challenging time and I am proud of the hard work and brave commitment of our firefighters."
Lancashire fire service area manager Tony Cook said "very intensive firefighting" is taking place on Winter Hill, including personnel doing shuttle runs in appliances to get water to the scene while others manually try to beat the fire out.
Fire break trenches are also being dug to try to protect local buildings.
Fire brigades from across the country – including from Tyne and Wear, the South West, Nottinghamshire, Humberside and Warwickshire – are on the scene to try and bring the situation under control but they area working in hot conditions with "no significant rain forecast this week," according to Met Office forecaster Helen Roberts.
She said: "The trend is for dry and very warm weather, which is far from ideal. Thunderstorms in the south west are unlikely to reach that far north.
"On Wednesday there is the potential for showers in that vicinity but it could be a one-off, isolated and unlikely to hit the area.
"Thursday is similar and any showers would be isolated and fleeting. There is no significant rain forecast this week."
Ms Roberts added that "winds are likely to pick up overnight but unfortunately not enough of a breeze to fan things."