A 10-year-old orphan facing deportation just months after the death of his mother has been granted leave to remain in the UK.
Giorgi Kakava has been told he will be able to stay in Glasgow with his grandmother Ketino Baikhadze for the next two-and-a-half years when they will be able to submit a fresh application for asylum.
Mrs Baikhadze's daughter Sopio fled Georgia for Scotland seven years ago and was awaiting the outcome of an appeal for asylum in the UK when she died in February after a long illness.
That left Mrs Baikhadze as the legal guardian of her grandson with the threat of deportation hanging over them but after a community campaign they have been granted leave to remain.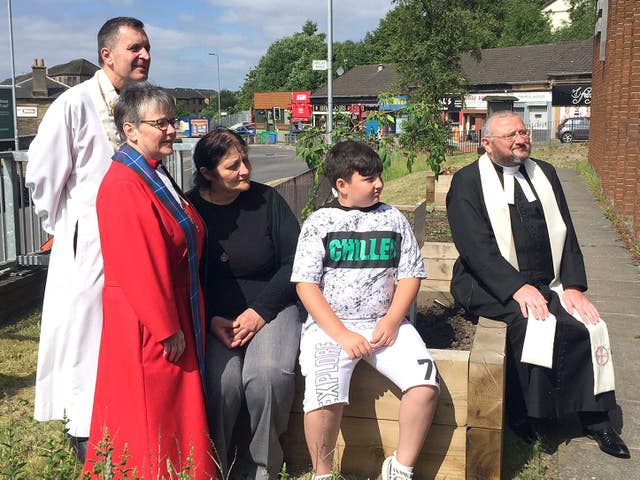 Prime Minister Theresa May promised that Home Secretary Sajid Javid would take a fresh look at it while First Minister Nicola Sturgeon said she hoped the Home Office would treat the case with "compassion and common sense".
Members of Springburn Parish Church were told of the decision on Monday at a service to dedicate a tree and bench to Sopio led by Rev Susan Brown, Moderator of the General Assembly of the Church of Scotland.
Minister Rev Brian Casey organised the campaign and said: "I am so pleased that the Home Secretary has intervened in this case and has secured Giorgi's future here in Scotland with his grandmother.
"The future is his oyster. The concern we have is when he is 17 and a half we have to think about what is happening then, so the fight continues and it has really shone a light on the immigration policy and how the Home Office works.
"I have known Giorgi for a number of years and he has always been a fantastic kid, and this grandmother has now become a friend."
She said: "I am very happy about Giorgi's life, it is very good. He has a nice life now.
"I have had a lot of people help and support me. I thank them so much."
The tree and bench has also been dedicated to all mothers from the Springburn area who have died.
The plaque says: "May all who sit here find peace."
Mr Sweeney said he was delighted with the outcome but remains concerned about other asylum cases.
He said: "It just shows you what can happen when a community comes together and demands justice for a vulnerable child.
"I felt compelled to raise this case directly with the Prime Minister as it strikes the heart and it proves that we are a compassionate country.
"The hostile environment policy raises serious questions about how it is actually harming people on a more systematic level. It shouldn't take me to raise this issue with the Prime Minister.
"There are more cases I am currently dealing with and these people are all motivated citizens that want to contribute to society."
Local MSP Bob Doris raised the issue at Holyrood.
He said: "This is a victory for common sense – but it is absolutely shocking that 10-year old orphan Giorgi was being threatened with deportation in the first place.
"I am delighted that Giorgi and his grandmother have been able to stay in Glasgow despite the degree of uncertainty that remains – the hard work by Reverend Casey at the Church of Scotland has paid off.
"But this can't just be a reprieve for one young boy while thousands more across the country are threatened and sent back into danger."
Green MSP Patrick Harvie said: "Giorgi will undoubtedly be relieved that he and his grandmother can now get on with their lives, but we mustn't forget how close our country came to deporting a ten-year-old child.
"Unless the UK changes its morally bankrupt immigration system, not all cases will have the same positive outcome as Giorgi's."