Health workers have marked the NHS's 70th anniversary by recreating an "amazing" 1920s staff photograph which was discovered in a broom cupboard.
The original image, showing a matron, her assistant and nurses wearing traditional nursing caps, was taken at Sandwell Hospital's headquarters in West Bromwich in 1927, when it was known as Hallam Hospital.
Fourteen staff members at Sandwell and West Birmingham Hospitals NHS Trust recently posed in a similar line-up outside what was once the site's nurses' home.
Avnash Nanra, ward manager for the paediatric/adolescent assessment unit at the trust, which runs the hospital, featured in the re-enactment.
She said: "The old picture is truly amazing and shows a completely different side to the health care service.
"You can clearly see how things have changed over the years. I was privileged to be part of this project and I hope that the re-enactment will be looked at in years to come."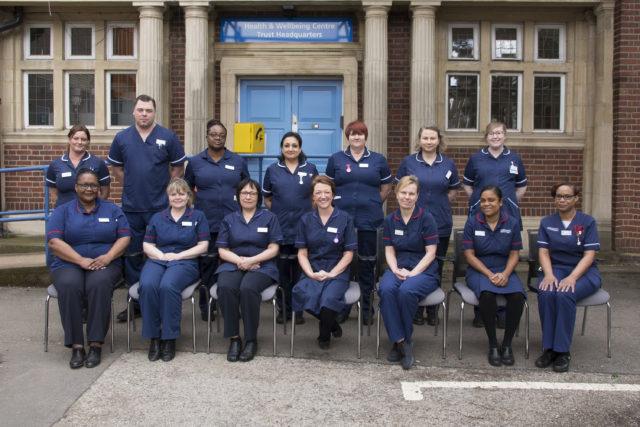 She said: "I was chatting to them about history, and they told me about how they had found these old pictures in one of the broom cupboards.
"I was keen to see them and so went along with them to have a look. I was astonished to find these very old and interesting photographs.
"I have kept them safe ever since. When I heard that there was going to be a huge celebration for NHS70, I thought these pictures would be perfect. It would be a great opportunity to share them with our colleagues and visitors."
All the pictures, which were found earlier this year, will be on show at Sandwell Hospital between 10am and 2pm on Thursday, during a tea party to mark the NHS anniversary.
The hospital is seeking information about the staff members shown in the 1927 image. Anyone related to any of the nurses pictured is asked to contact Anuji.evans@nhs.net