Home Secretary Sajid Javid said there were "no current plans" to impose fresh sanctions on Russia, despite accusing the country of using Britain as a "dumping ground" for poison.
During a brief tour of Amesbury in Wiltshire, where two residents remain critically ill in hospital after being exposed to the nerve agent Novichok, Mr Javid said he would not "jump to conclusions" over the latest attack.
It comes four months after former Russian spy Sergei Skripal and his daughter Yulia fell ill after being exposed to Novichok in nearby Salisbury.
Police have yet to identify any individuals responsible for the poisoning, and are working to establish how the latest victims – Dawn Sturgess, 44, and her partner Charlie Rowley, 45 – came into contact with the nerve agent.
Mr Javid told the Press Association: "Clearly what we have already determined, what our expert scientists have determined, is that the nerve agent in this incident is the exact same nerve agent as was used back in March (when the Skripals were poisoned).
"We know back in March that was the Russians. We know it was a barbaric inhuman act by the Russian state. Again for this particular incident we need to learn more and let the police do their work."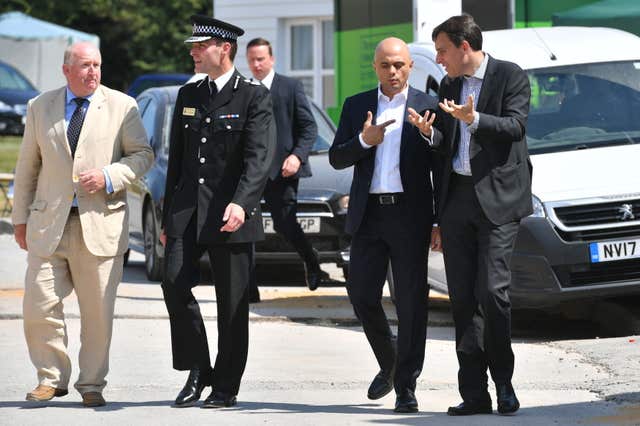 "There is no evidence at this point that the two individuals hurt by this incident visited any of the areas that the Skripals visited.
"That said, I think everyone would want to listen to the advice of the professionals and make sure we take some precautions."
Mr Javid, who visited the site for around 25 minutes in addition to a 45-minute private meeting with emergency responders, met with Angus Macpherson, the Conservative police and crime commissioner for Wiltshire and Kier Pritchard, the Wiltshire police chief constable.
He also briefly met some residents inside the police cordon, but others said they were disappointed he did not talk with them.
Carol Gibson, who moved into the road around five weeks ago from London, said: "Even if he'd just come over for a minute it would have been nice.
"The MP (John Glen) made the point of coming to speak to us and said these visits are managed for him.
"But the man has a brain as well, he could have come over to say a sentence."
Last night it was confirmed a police officer who attended hospital over concerns he may have been exposed to Novichok has been given the all-clear.
Lucy Pickford, who lives with Ms Gibson, said police had been reassuring overall and had helped put her mind at ease.
She said officers were "approachable" to talk to and had posted leaflets through letterboxes on the new estate.
John Glen, the Conservative MP for Salisbury and South Wiltshire, told the Press Association: "We need to establish quickly what they came into contact with and where.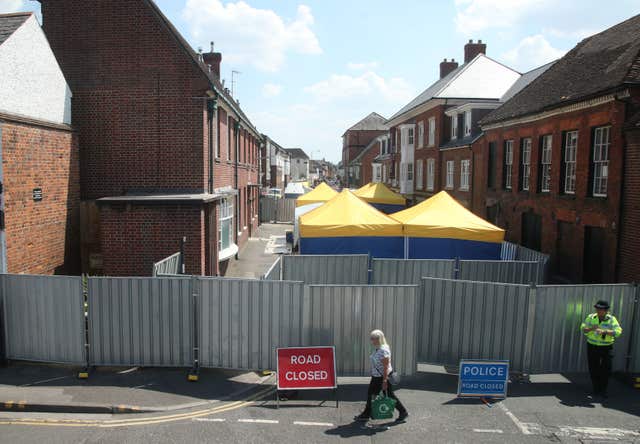 "We were beginning to recover significantly. It's very very frustrating."
Forensic investigators are continuing to comb for clues in Wiltshire after the latest Novichok poisonings.
Investigators wearing camouflage protective clothing entered the John Baker House assisted-living accommodation in Salisbury, where mother-of-three Ms Sturgess lives, after they took a sample from the outside of the building on Friday.
The second nerve agent emergency in four months prompted a diplomatic row, with Mr Javid accusing the Russian state of using Britain as a "dumping ground for poison".
The Russian Embassy hit back, accusing the Government of trying to "muddy the waters" and "frighten its own citizens".