A mother-of-three has died after she and her partner were exposed to Novichok in Amesbury.
Dawn Sturgess, 44, died on Sunday evening in hospital.
Her partner Charlie Rowley, 45, is still in a critical condition after the couple fell ill last Saturday.
Tests have revealed that the Amesbury couple were exposed to the nerve agent after touching a contaminated item with their hands.
The possibility that the two investigations might be linked is "clearly a key line of inquiry for police", the Met said.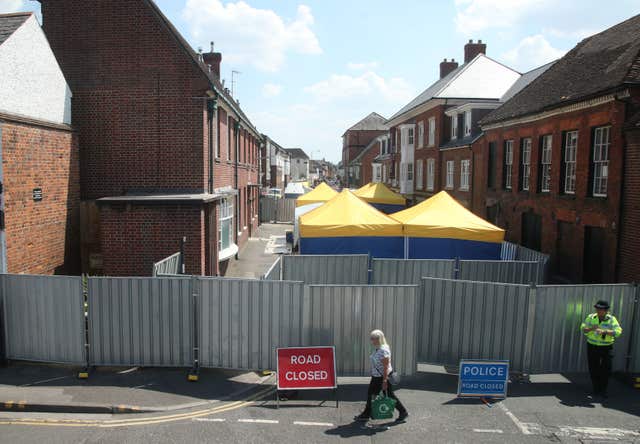 "This terrible news has only served to strengthen our resolve to identify and bring to justice the person or persons responsible for what I can only describe as an outrageous, reckless and barbaric act," he added.
"Detectives will continue with their painstaking and meticulous work to gather all the available evidence so that we can understand how two citizens came to be exposed with such a deadly substance that tragically cost Dawn her life."
Ms Sturgess's family are being given support by specialist officers and have asked for privacy.
Prime Minister Theresa May said she is "appalled and shocked", and sent her "thoughts and condolences" to the family.
"Police and security officials are working urgently to establish the facts of this incident, which is now being investigated as a murder," she added.
"The Government is committed to providing full support to the local community as it deals with this tragedy."
A post-mortem will be scheduled to take place in due course.
Dr Christine Blanshard, from Salisbury District Hospital where Ms Sturgess was treated, described her death as "desperately sad" and sent her condolences to the family.
She added: "The staff here at Salisbury District Hospital worked tirelessly to save Dawn.
"Our staff are talented, dedicated and professional and I know today they will be hurting too.
"They did everything they could."
"Understandably, this is likely to raise the level of concern in Amesbury and Salisbury."
Public Health England (PHE) said their assessment "remains that the overall risk to the general public remains low".
PHE director Paul Cosford said: "As a precaution we still advise the public not to pick up any strange items such as needles, syringes or unusual containers."
The second nerve agent emergency in four months prompted a diplomatic row, with Home Secretary Sajid Javid accusing the Russian state of using Britain as a "dumping ground for poison".
The Russian Embassy hit back, accusing the Government of trying to "muddy the waters" and "frighten its own citizens".
Mr Javid said after visiting Wiltshire towns on Sunday: "This desperately sad news only strengthens our resolve to find out exactly what has happened."
The Defence Science and Technology Laboratory at Porton Down confirmed on Wednesday that the victims had been exposed to Novichok.