Glasgow School of Art's Mackintosh building will be rebuilt, its director has said, as work starts to dismantle parts of the fire-ravaged structure.
Experts ruled that sections of the famous building had to be demolished on safety grounds after flames tore through the Charles Rennie Mackintosh-designed art school on the night of Friday June 15.
The fire, which spread to nearby properties including the O2 ABC, came amid a major restoration project inside the Mackintosh building following a large fire in 2014.
A debate around the building's future and the possibility of moving it to another site have been put forward by some architects but GSA director Professor Tom Inns told The Guardian: "We're going to rebuild the Mackintosh building.
"There's been a huge amount of speculation about what should happen with the site and quite rightly so, but from our point of view and that of the city of Glasgow, it is critically important that the building comes back as the Mackintosh building."
He added: "The building is insured and we're confident that we can rebuild the building based on that."
Unstable masonry on the south side of the building was the first to be removed on Tuesday, with the work expected to take several weeks.
Structural engineers David Narro Associates and contractor Reigart drew up a detailed plan for the work which includes dismantling areas "brick by brick" with removed parts to be moved into storage.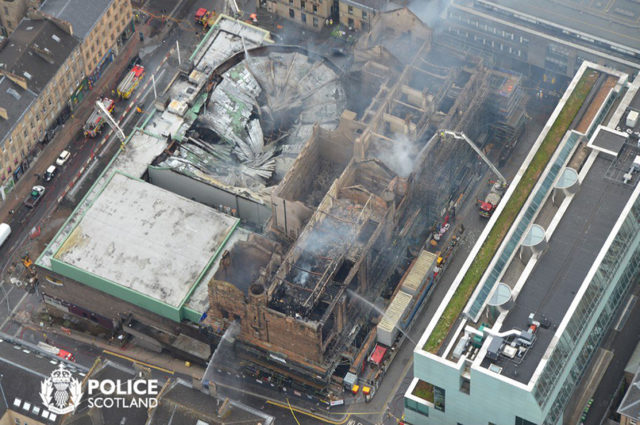 "It is important to understand that our agreed approach is the safest way to dismantle the dangerous elements of the building and, importantly, ensure there is no damage to nearby properties or risk to those working on site.
"The contractor is starting today to reduce the height of the high level walls on the south side of the building, carefully taking down damaged and unstable masonry.
"With the machinery brought to site the contractor can work on several fronts, so after a start today in the middle of the south facade, we will quickly move on to reducing height to the top parts of the south-east corner and east facade.
"Work will then follow on the west end and then parts of north facade.
"This sequence has been determined so we keep the building as stable as possible and the dismantling controlled throughout the process."
A crane is being used to position workers at the top of the building for removal work and four further cranes are expected to be moved to the site to support the project.
The art school said Glasgow City Council Building Standards will assess whether it is possible to reduce the size of the exclusion cordon around the building as the dismantling progresses.