Just three words seemed to be on the lips of England fans who have travelled to Russia for the Three Lions' clash with Croatia.
Supporters who had stayed at home for the early stages of the tournament have flocked to get a piece of the action as Gareth Southgate's men chase a first World Cup final in 52 years.
And spirits were high in central Moscow as fans sang and cheered late into the night on the eve of the biggest game in nearly three decades – a first World Cup semi-final since Italia 90.
The immortal line from the Baddiel and Skinner and the Lightning Seeds' Three Lions (Football's Coming Home) has moved beyond a social media trend to become a mantra for fans who are desperate to see an end to the years of hurt.
Across the UK, pubs, bars, gardens and public parks are getting ready to host huge World Cup parties – with police warning fans not to "overstep the line" with any celebrations in light of the excesses following Saturday's quarter-final victory.
Around 30,000 people are expected in London's Hyde Park, where a special screening has been organised.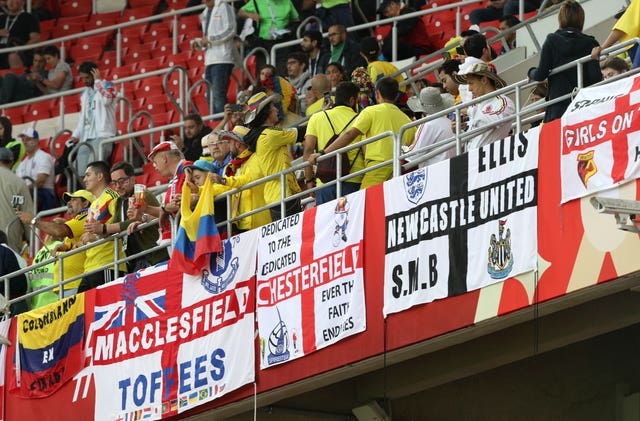 Supporters who arrived without tickets faced a day of haggling with black marketeers and private sellers in order to get into the Luzhniki Stadium for kick-off at 9pm local time (7pm UK).
Among them were Will Carr and Dale Goulding, who made the decision to book flights last Thursday before progress was guaranteed.
Mr Goulding, 27, from Clapham Junction, south London, said the plan was to get to the ticket office early and pick up any tickets being resold through official channels, and failing that they would play the touts at their own game.
"What the touts are doing is getting people coming to the Fifa ticket office and saying I'll give you £50 more, knowing they can sell it to and England fan for £150 more," he said.
"We are going to turn up in our England tops – we're genuine. We are going to do what they are doing.
"We are going to stand there and say, 'any tickets, we need a ticket', and if that doesn't work, we'll go to the ground."
Mr Carr, 25, from Acomb, in York, said the pair knew they had to get to Russia for the game, given neither were alive the last time England played such a crucial tie.
"Everyone's believing," he said.
"It was a bit of a joke to begin with that football was coming home.
"It's actually coming home.
"We heard some Russian guy shouting, 'it's coming home' earlier.
"It's a once-in-a-lifetime opportunity.
"This is it, Croatia then France and we've got a World Cup."
Mr Goulding agreed.
He said: "It's just fallen so brilliantly for us. Not having Germany, not having Portugal, not having Italy, not having Spain, I'll take that every day.
"You're not going to have a better chance."