The Duke of Sussex has told a Famine memorial sculptor that the event of the past "is happening all around us today".
Harry was speaking to Rowan Gillespie, creator of the Famine Memorial in Dublin, when he said that people today should be looking at "what we're not dealing with".
The statues at Dublin's docklands commemorate the Great Famine of the mid-19th Century.
The duke and duchess were heckled during their visit to the memorial on Wednesday as they listened to Mr Gillespie explain the history of the famine and the meaning behind the statues.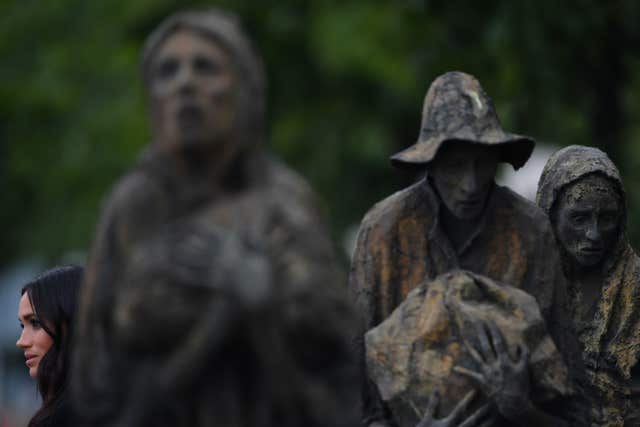 "He (Harry) said that we're looking back at this as an event of the past but this is happening all around us today and we're criticising people then for not doing anything at the time, while what we really should be doing is looking at what we're not dealing with today and seeing where we should be focusing our attention today.
"I told them the stories behind each of the sculptures which they seemed to really focus on.
"There's another sculpture of the arrival of these people in Toronto and so obviously that's got an extra connection for them.
"They were very good at listening and nudging me on."