Donald Trump was branded a "fascist" as MPs were told the cost of policing the president's visit would "run into the millions".
Labour firebrand Dennis Skinner told ministers the president's visit would cause "mayhem" as other backbenchers raised concerns about the number of officers being seconded from their constituencies.
The controversial visit has prompted one of the UK's biggest ever police operations, with thousands of officers on duty.
During Mr Trump's trip he will meet the Queen and Prime Minister Theresa May as he visits locations including Blenheim Palace, Chequers, Windsor Castle, the US ambassador's official residence in Regent's Park, London, and Scotland.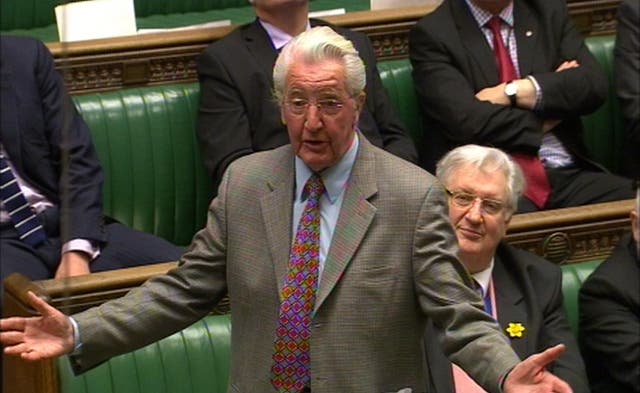 "The Prime Minister, does she want to hold his hand again? Is that what it's all about? You're making a rod for your own back."
Policing minister Nick Hurd, who arrived late to the debate with cries of "shocking" and "how discourteous" from Opposition MPs, told Mr Skinner he was "entitled to his own robust views".
He added: "The fact of the matter is President Trump is the democratically elected leader of the United States of America which is historically and is currently our most important ally and it's a hugely important relationship."
Mr Hurd earlier apologised to Speaker John Bercow for arriving late, he said: "Firstly let me apologise to (Labour's Louise Haigh) for not being in the chamber when she put the question, I apologise to you and I apologise to the House."
Later in the debate, Labour MP Paula Sherriff (Dewsbury) told MPs that 300 officers had been sent by West Yorkshire Police to help cover the event "even though there was a planned EDL (English Defence League) demo" in the region.
She said: "Can he therefore absolutely guarantee the safety of local people during that demo when so many of our officers will be deployed elsewhere?"
Mr Hurd responded saying "almost every police force is contributing officers", adding: "These are local operating decisions that the local chief and the local PCC need to take in coordination with the national coordination centre to make sure they don't take unnecessary risk in their home base."
Mr Hurd earlier confirmed to MPs that the cost of the policing operation "will run into millions".
Following Mr Hurd's response, Labour MP Diana Johnson (Kingston upon Hull North) said her constituents would be "furious to know that inspectors, sergeants and police constables are going down to keep President Trump safe".