US President Donald Trump's much anticipated trip to the UK may not officially be a state visit, but it has many of the hallmarks of one.
A lavish banquet, military pomp and ceremony, a meeting with the Queen and political talks are part of the American leader's busy two-day itinerary – all familiar elements of a state visit.
In the imposing grounds of Blenheim Palace, Mr Trump and wife Melania were welcomed by Prime Minister Theresa May and her husband Philip on Thursday.
It was arguably a more dramatic setting than Whitehall's Horse Guards Parade where heads of state are normally officially greeted by the Queen, and the military display went beyond the usual inspection of a guard of honour.
Mr Trump was greeted with a specially composed fanfare performed by the State Trumpeters of the Household Cavalry Band, and a sunset ceremony of music and drill was staged by the Bands of the Scots, Irish and Welsh guards.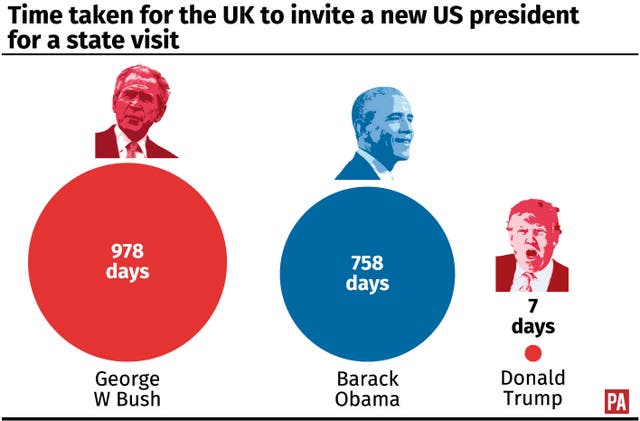 And no other members of the royal family will call in to Windsor Castle to meet the controversial billionaire-turned-politician when he sits down to tea with the Queen.
When the then US president Barack Obama dropped in to see the Queen at Windsor Castle in 2016 – the day after her 90th birthday – he and Michelle Obama had lunch with the monarch and the Duke of Edinburgh in the castle's private dining room.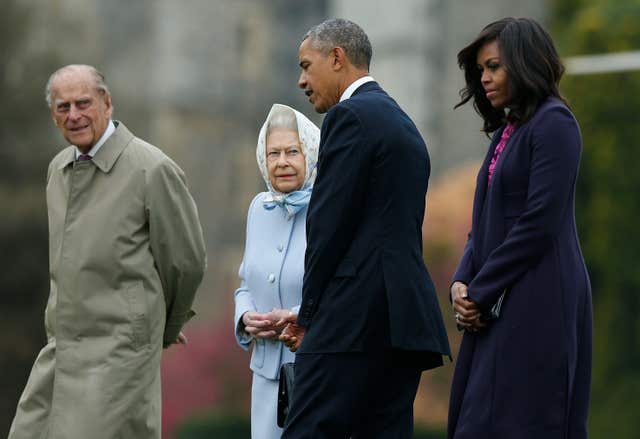 Mrs May had announced the US president would be given the honour of a state visit when she became the first international leader to visit Mr Trump after his inauguration.
It took just seven days after Trump took office for the invitation to be made, compared with 758 days for Mr Obama and 978 for George W Bush.
The decision soon became mired in controversy and when the state visit was not mentioned in last year's Queen's speech commentators concluded it had been dropped for the foreseeable future.