Sadiq Khan has warned of the effects on jobs and businesses of an "extreme hard Brexit", arguing it would be the "start of a slippery slope which none of us want to see".
The London Mayor also defended the flying of a blimp of Donald Trump over the capital during the US president's UK visit, saying that "it's not my job as the mayor to censor the views of Londoners and others".
Mr Khan spoke of his "big concern" over the capital's services sector, warning independent analysis showed that a Brexit no deal would be "catastrophic for our city".
Speaking on BBC One's The Andrew Marr Show, he said: "We need to make sure the Government has a plan [on] how we protect those services."
He added: "92% of our economy is the services sector, we need to make sure not simply is there a deal in relation to goods during post transition, we need a back stop in relation to services…
"The services sector is crucial for our economy and that's why it's really important that, the white paper… has no mention of what the Government's plans are to protect that very important sector."
Asked about a people's vote, he said: "I may be unhappy with the results of the referendum and I'm proud London voted to remain, but I accept the verdict… What I'd like see is [the] Government do a good deal with the EU."
Mr Khan refused to block a plan to fly a giant inflatable "Trump baby" near Parliament to coincide with mass protests surrounding the president's trip to Britain.
He said: "Well it wasn't my blimp or my balloon, but we have in our city and our country, as indeed does the USA, a rich history of the right to protest, the right of free speech and the right to express our views and the idea that we would curtail these rights because it may cause offence… actually what you saw on Friday was peaceful protest and done in a safe way."
Mr Khan added: "We have a special relationship with the USA, it's like having a best friend. The expectations we have from the USA are far higher than we would have of another country or another leader and basically Londoners and others are disappointed that the US president hasn't met those high standards."
Mr Trump used an interview ahead of his UK visit to renew his personal feud with the London Mayor, attacking him over the wave of terror atrocities and accusing him of doing "a terrible job".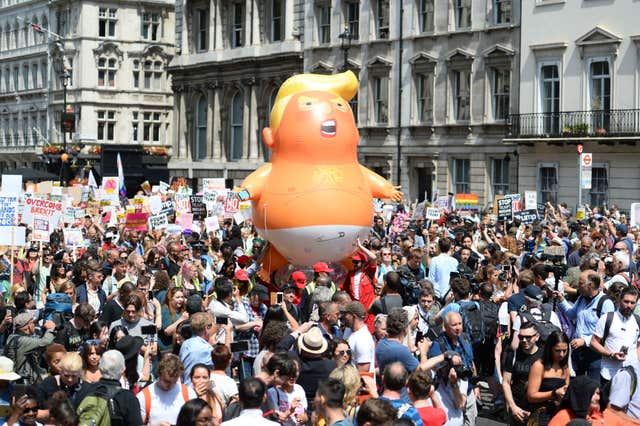 Speaking about the horrific terror attacks in London and Manchester, he said: "One of the comforting things for us were the words of love and support from those in America and I'm not sure why President Trump has singled me out as the Mayor of London."
He added: "When you amplify messages of hate, when you use the language that President Trump does in relation to immigrants, infestation is I think the word he used, [you] can understand why people draw the conclusion that he's racist."
Speaking about the capital's violent crime and stabbings he said chief constables all accepted there was a link between a cut in police resources and an increase in crime, adding: "I'm not excusing criminality, but we need the Government to step up and help us."