More than a quarter of people admit to "careful littering" such as leaving drinks cans or coffee cups on window ledges, polling has found.
A new campaign to stop people leaving food packaging behind them on a park bench when eating or drinking "on the go" or at a train station or bus stop before boarding has been launched, reminding the public it is still littering.
The campaign to tackle careful littering is being rolled out after a survey of 2,143 people for Keep Britain Tidy by YouGov revealed that 27% admitted to this type of littering.
It is being launched in Manchester following a successful pilot conducted by Keep Britain Tidy and supported by the People's Postcode Lottery, which placed signs in places where rubbish is commonly left.
They offer people a reminder that, whether it is "carefully" placed or simply thrown on the floor, it is still littering.
The trial took place in town centres, bus stops and parks across the country and saw the total amount of litter reduced by a fifth (20%), while in some areas, the reduction was up to 57%.
Of the 1,072 people polled by Keep Britain Tidy in the trial areas, nearly two-thirds (63%) said the campaign would stop them leaving litter behind again.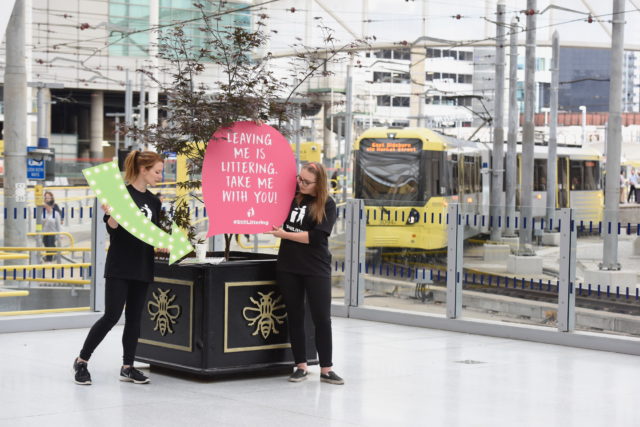 "This campaign shows it is possible to make a huge difference to the amount of litter left behind by people.
"By highlighting that placing a coffee cup on a shop window sill is just as bad as mindlessly throwing litter on the ground is clearly making people think twice and to do it less.
"With more than one in four people admitting to 'careful' littering, this campaign is a simple and effective way to get the message across to them in the place and at the moment when they're likely to do it."